Søren Kierkegaard
This article relates to Either/Or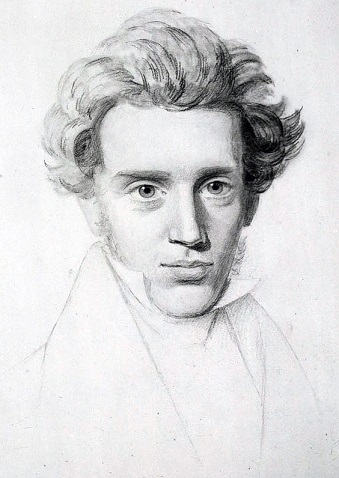 Born in 1813 in Copenhagen, Søren Kierkegaard was a Danish philosopher and theologian best known for his critical discourse on the Christian faith, which solicited both critics and admirers while he was alive. Known today as the "father of existentialism," he was one of the first philosophers to delve into themes that would be further explored in the existentialist movement (the subjectivity of human existence, and the question of authenticity, or the degree to which one's actions dovetail with their values).

He was the seventh and final child of a wealthy family. His father, a retired businessman, led a somber life, and Kierkegaard grew up under the shadow of a strange tale that he often told, about having once cursed God as a child. He spent the rest of his days intensely guilt-ridden about this, and his piety and melancholic demeanor affected Kierkegaard's outlook on life from an early age. (His father believed that God would kill all seven of his children before they reached age 33, the age at which Jesus Christ was crucified; presumably hearing this prophecy was also troubling to young Kierkegaard, and in fact five of the seven children did die young.) Kierkegaard enrolled in the University of Copenhagen's theological department in 1830, but did not finish his studies until 1841. In 1840 he became engaged to a Danish woman named Regine Olsen, but less than a year later, he broke the engagement for nebulous reasons, claiming only that he would not be able to make her happy. His failed relationship with Olsen hung over him for the rest of his life. In addition to the influence she had over his philosophical works (he often wrote about young women, as well as the theme of sacrifice), Kierkegaard never married, and in his will he left all of his possessions to Olsen.

Some of Kierkegaard's notable works include Either/Or (1843), Fear and Trembling (1843), The Concept of Anxiety (1844), and The Sickness Unto Death (1849). He used pseudonyms early in his career (as he did not wish for readers to compare his personal life to his philosophical ideals), but he later began publishing under his own name.

Elif Batuman considers Either/Or extensively in her novel of the same name. First published under a pseudonym, Kierkegaard's Either/Or is an 800-page tome split into two volumes, each of which is narrated by two different characters. The first volume, which explores the concept of living an aesthetic life, is narrated by a young man called "A," who sees boredom as the root of all evil. This half of the book also includes a section called "The Seducer's Diary" (often read today in isolation from the rest of the work, which Kierkegaard had not intended), in which a separate narrator manipulates a girl, Cordelia, into falling for him, and then manipulates her into breaking off the engagement. This is all done for the seducer's entertainment rather than for sexual gratification. (Some reviews considered "The Seducer's Diary" to be a fictionalization of Kierkegaard's treatment of Regine Olsen.)

The second half of Either/Or, which considers the ethical life, is narrated by a character referred to as Judge Vilhelm. Vilhelm argues that the aesthete from the first volume, A, has failed to become a self, and insists that while an ethical life need not be devoid of aesthetics, ethics must always take precedence. In presenting these two volumes as halves of a single whole, Kierkegaard does not ask the reader to choose between the aesthetic life and the ethical life, but rather to consider how either aesthetics or ethics serve someone attempting to live a religious life; a question which characterized many of his later writings.
Sketch of Søren Kierkegaard, courtesy of Wikimedia Commons
Filed under People, Eras & Events
This article relates to Either/Or. It first ran in the May 18, 2022 issue of BookBrowse Recommends.
This review is available to non-members for a limited time. For full access become a member today.
Membership Advantages
Reviews
"Beyond the Book" articles
Free books to read and review (US only)
Find books by time period, setting & theme
Read-alike suggestions by book and author
Book club discussions
and much more!
Just $39 for 12 months or $12 for 3 months.