Cult Psychology
This article relates to The Project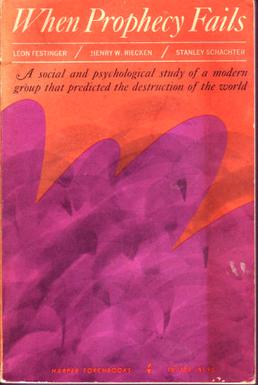 Cults are often difficult to identify from the outside, given that a common characteristic is members' denial that any dysfunctional elements are at play within their community. Many countries, including the U.S., do not have a legal definition, but prefer to use a series of criteria. However, a sort of colloquial understanding is more easily agreed upon: a cult is a group bound together by veneration for an ideal — often religious, and often represented by an individual figure who emerges as the cult leader.

The question of why people are drawn into cults has been a source of fascination for decades. One of the first psychological studies conducted on cults was by social psychologist Leon Festinger and colleagues. They researched a UFO-based religion called the Seekers for several years, and their findings went into a 1956 book titled When Prophecy Fails: A Social and Psychological Study of a Modern Group that Predicted the Destruction of the World. Festinger developed the concept of cognitive dissonance — the psychological disturbance a person feels when two or more of their beliefs or attitudes are in conflict with another — in part through observation of this group, which believed in a doomsday event that never came to fruition. Numerous other studies emerged in the mid-20th century, focusing both on the individuals who become involved in cults and the people who draw them in.

A common characteristic of cult leaders is that they are united in "exploiting the vulnerabilities of potential converts," according to Harvard professor John G. Clark Jr., who studied the damaging effects of cults starting in the 1970s. He describes the process as "psychological manipulation." Psychologists generally agree that providing prospective members with an illusion of emotional comfort is a critical component in recruiting. Once their target has successfully been recruited, leaders focus on severing that person's connections to the outside world, according to psychiatrist Mark Banschick. Another common tactic is "love bombing," or showering members with words of affirmation so they come to associate the cult with belonging. Margaret Singer, a clinical psychologist who also studied cult psychology in the 1970s, posited that the techniques of many cults essentially amounted to brainwashing. However, in subsequent years, the term "brainwashing" has been used less frequently, given that it's a relatively vague and unprovable concept. The realities of cult indoctrination are often more subtle, and some people are simply more susceptible than others, due either to their upbringing or their disposition or some combination of the two.

Ben Barker M.D., who wrote a 1980 article titled "The Psychology of Cultism," argued that cult leaders are largely irrelevant and that study should be focused on the members. The more inferior and insecure the individual, Barker believes, the more likely they are to project omnipotence onto the leader. In a 2014 documentary shot 45 years into her prison sentence, Charles Manson follower Patricia Krenwinkel described a difficult childhood where she felt like she never fit in and craved a sense of belonging. "It is countless how many lives were shattered by the path of destruction that I was a part of, and it all comes from such a simple thing as just wanting to be loved," Krenwinkel said.

A study published by the scientific and medical analytics group Elsevier in 2017 determined that cult membership and addictive disorders share many characteristics, including "persistence despite damage," "occupation of an exclusive place in the thoughts of members," and "high psychiatric comorbidity prevalence," and that those with addictive personalities are more likely to join a cult.

The Project by Courtney Summers focuses on a young woman attempting to rescue her sister from a cult, a process that requires trying to understand how and why she was drawn into the group in the first place.

Further Reading on Cults from BookBrowse
Cover of When Prophecy Fails by Leon Festinger et. al.
Filed under Medicine, Science and Tech
This article relates to The Project. It first ran in the March 17, 2021 issue of BookBrowse Recommends.
This review is available to non-members for a limited time. For full access become a member today.
Membership Advantages
Reviews
"Beyond the Book" articles
Free books to read and review (US only)
Find books by time period, setting & theme
Read-alike suggestions by book and author
Book club discussions
and much more!
Just $45 for 12 months or $15 for 3 months.