Choose Your Free Book!
This is the current list of books available to BookBrowse's winners. Winners are contacted by email.
This list is updated in real time - all books shown are currently available.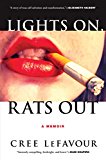 Lights On, Rats Out: A Memoir

by Cree LeFavour.

Hardcover, 244 pages.
ISBN-10: 0802125964
"Lights On, Rats Out is unlike anything I've ever read?a powerfully, staggeringly honest book that is excruciating in places, and also completely haunting. LeFavour's intimate account of her relationship with her psychiatrist is intensely compelling, forthright, and brave. Did he overstep? Was he somehow pulled in by her beyond what was therapeutically appropriate or helpful? This is a fascinating memoir in a category of its own."?Dani Shapiro

As a young college graduate a year into treatment with a psychiatrist, Cree LeFavour began to organize her days around the cruel, compulsive logic of self-harm: with each newly lit cigarette, the world would drop away as her focus narrowed on the blooming release of pleasure-pain as the burning tip was applied to an unblemished patch of skin. Her body was a canvas of cruelty; each scar a mark of pride and shame.

In sharp and shocking language, Lights On, Rats Out brings us closely into these years. We see the world as Cree did?turned upside down, the richness of life muted and dulled, its pleasures perverted. The heady thrill of meeting with her psychiatrist, Dr. Adam N. Kohl?whose relationship with Cree is at once sustaining and paralyzing?comes to be the only bright spot in her days.

Lights On, Rats Out describes a fiercely smart and independent woman's charged attachment to a mental health professional and the dangerous compulsion to keep him in her life at all costs.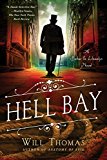 Hell Bay: A Barker & Llewelyn Novel

by Will Thomas.

Paperback, 304 pages.
ISBN-10: 1250145430
"If you love Sherlock Holmes, historical mysteries, or just a good, rousing adventure, you'll love these books, too." - Laurell K. Hamilton
At the request of Her Majesty's government, private enquiry agent Cyrus Barker agrees to take on his least favorite kind of assignment?he's to provide security for a secret conference with the French government. The conference is to take place on the private estate of Lord Hargrave on a remote island off the coast of Cornwall. The goal of the conference is the negotiation of a new treaty with France. The cover story for the gathering is a house party?an attempt to introduce Lord Hargrave's two unmarried sons to potential mates.
But shortly after the parties land at the island, Lord Hargrave is killed by a sniper shot, and the French ambassador's head of security is found stabbed to death. The only means of egress from the island?a boat?has been sent away, and the means of signaling for help has been destroyed. Trapped in a manor house with no way of escape, Cyrus Barker and his assistant, Thomas Llewelyn, must uncover which among them is the killer before the next victim falls.
Will Thomas's Hell Bay is the eighth Barker & Llewelyn mystery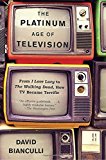 The Platinum Age of Television: From I Love Lucy to The Walking Dead, How TV Became Terrific

by David Bianculli.

Paperback, 592 pages.
ISBN-10: 1101911328
Television today is better than ever. From The Sopranos to Breaking Bad, Sex and the City to Girls, and Modern Family to Louie, never has so much quality programming dominated our screens. Exploring how we got here, acclaimed TV critic David Bianculli traces the evolution of the classic TV genres, among them the sitcom, the crime show, the miniseries, the soap opera, the Western, the animated series, the medical drama, and the variety show. In each genre he selects five key examples of the form to illustrate its continuities and its dramatic departures. Drawing on exclusive and in-depth interviews with many of the most famed auteurs in television history, Bianculli shows how the medium has evolved into the premier form of visual narrative art.
 
Includes interviews with: MEL BROOKS, MATT GROENING, DAVID CHASE, KEVIN SPACEY, AMY SCHUMER, VINCE GILLIGAN, AARON SORKIN, MATTHEW WEINER, JUDD APATOW, LOUIS C.K., DAVID MILCH, DAVID E. KELLEY, JAMES L. BROOKS, LARRY DAVID, KEN BURNS, LARRY WILMORE, AND MANY, MANY MORE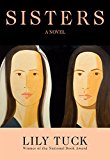 Sisters

by Lily Tuck.

Hardcover, 176 pages.
ISBN-10: 0802127118
"Tuck's prose is elegant." ? New York Times Book Review
Lily Tuck's critically-lauded, bestselling I Married You for Happiness was hailed by the Boston Globe as "an artfully crafted still life of one couple's marriage." In her singular new novel Sisters, Tuck gives a very different portrait of marital life, exposing the intricacies and scandals of a new marriage sprung from betrayal.
Tuck's unnamed narrator lives with her new husband, his two teenagers, and the unbanishable presence of his first wife?known only as she. Obsessed with her, our narrator moves through her days presided over by the all-too-real ghost of the first marriage, fantasizing about how the first wife lives her life. Will the narrator ever equal she intellectually, or ever forget the betrayal that lies between them? And what of the secrets between her husband and she, from which the narrator is excluded? The daring and precise build up to an eerily wonderful denouement is a triumph of subtlety and surprise.
With Sisters, Lily Tuck delivers riveting psychological portrait of marriage, infidelity, and obsession; charting with elegance and insight love in all its phases.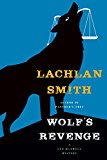 Wolf's Revenge (Leo Maxwell)

by Lachlan Smith.

Hardcover, 256 pages.
ISBN-10: 080212707X
Leo Maxwell is no ordinary attorney. He spends as much time tracking corrupt politicians and gangland leaders across the Bay area to piece together the facts of a crime as he does crafting courtroom rhetoric. But Leo has never quite recovered from discovering his mother's murdered corpse as a child, or from growing up in the shadow of his brilliant older brother.

In Wolf's Revenge, the fifth novel in Lachlan Smith's Shamus Award-winning series, attorney-detective Leo Maxwell seeks an exit strategy from his family's deepening entanglement with a ruthless prison-based gang. Caught between the criminals and the FBI, Leo charts his own path in defending a young woman who was manipulated into brazenly murdering a member of the Aryan Brotherhood in San Francisco's Tenderloin neighborhood. When the consequences strike heartbreakingly close to home, Leo, his brother Teddy, and the rest of the family are forced into a winner-takes-all confrontation with men who don't care how many innocents they harm in achieving their goals. As Leo's world collapses, long-held secrets are revealed, transforming his perspective on the aftermath of the tragedy that derailed his childhood and fractured his family twenty-one years ago.

Leo comes to realize there's no such thing as fair play in the battle against a prison gang that's already being punished to the full extent of the law. The question then becomes who will get revenge first?the Maxwells or the sadistic gang leader who pursues them?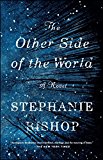 The Other Side of the World: A Novel

by Stephanie Bishop.

Paperback, 256 pages.
ISBN-10: 1501133136
In the tradition of The Hours and Revolutionary Road, an "exquisite meditation on motherhood, marriage, and the meaning of home" (The New York Times Book Review), set in England, Australia, and India in the early 1960s.

The only thing harder than losing home is trying to find it again.

Cambridge, 1963. Charlotte is struggling. With motherhood, with the changes brought on by marriage and parenthood, with never having the time or energy to paint. Her husband, Henry, cannot face the thought of another English winter. A brochure slipped through the mailbox—Australia brings out the best in you—gives him an idea.

Charlotte is too worn out to resist, and before she knows it they are traveling to the other side of the world. But upon their arrival in Perth, the southern sun shines a harsh light on the couple and gradually reveals that their new life is not the answer either was hoping for. Charlotte barely recognizes herself in this place where she is no longer a promising young artist, but instead a lonely housewife venturing into the murky waters of infidelity. Henry, an Anglo-Indian, is slowly ostracized at the university where he teaches poetry. Subtle at first, the ostracism soon invades his entire sense of identity.

Trapped by nostalgia, Charlotte and Henry are both left wondering if there is any place in this world where they truly belong. Which of them will make the attempt to find out? Who will succeed?

"An exquisite and clear-eyed story of the ambiguities of love and creativity, motherhood and migration…It's a thing of beauty and honesty, as big as the whole unmoored world, and as particular as a family's moments and moods," says Ashley Hay, author of The Railwayman's Wife.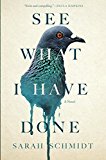 See What I Have Done

by Sarah Schmidt.

Hardcover, 324 pages.
ISBN-10: 0802126596
Lizzie Borden took an ax
And gave her mother forty whacks
When she saw what she had done,
She gave her father forty-one.

Or did she?

In this riveting debut novel, See What I Have Done, Sarah Schmidt recasts one of the most fascinating murder cases of all time into an intimate story of a volatile household and a family devoid of love.

On the morning of August 4, 1892, Lizzie Borden calls out to her maid: Someone's killed Father. The brutal ax-murder of Andrew and Abby Borden in their home in Fall River, Massachusetts, leaves little evidence and many unanswered questions. While neighbors struggle to understand why anyone would want to harm the respected Bordens, those close to the family have a different tale to tell?of a father with an explosive temper; a spiteful stepmother; and two spinster sisters, with a bond even stronger than blood, desperate for their independence.

As the police search for clues, Emma comforts an increasingly distraught Lizzie whose memories of that morning flash in scattered fragments. Had she been in the barn or the pear arbor to escape the stifling heat of the house? When did she last speak to her stepmother? Were they really gone and would everything be better now? Shifting among the perspectives of the unreliable Lizzie, her older sister Emma, the housemaid Bridget, and the enigmatic stranger Benjamin, the events of that fateful day are slowly revealed through a high-wire feat of storytelling.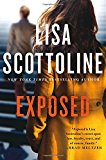 Exposed: A Rosato & DiNunzio Novel

by Lisa Scottoline.

Hardcover, 384 pages.
ISBN-10: 1250099714
Exposed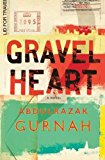 Gravel Heart

by Abdulrazak Gurnah.

Hardcover, 272 pages.
ISBN-10: 163286813X
A powerful story of exile, migration, and betrayal, from the Booker Prize–shortlisted author of Paradise.
Salim has always known that his father does not want him. Living with his parents and his adored Uncle Amir in a house full of secrets, he is a bookish child, a dreamer haunted by night terrors. It is the 1970s and Zanzibar is changing. Tourists arrive, the island's white sands obscuring the memory of recent conflict--the longed-for independence from British colonialism swiftly followed by bloody revolution. When his father moves out, retreating into disheveled introspection, Salim is confused and ashamed. His mother does not discuss the change, nor does she explain her absences with a strange man; silence is layered on silence.
When glamorous Uncle Amir, now a senior diplomat, offers Salim an escape, the lonely teenager travels to London for college. But nothing has prepared him for the biting cold and seething crowds of this hostile city. Struggling to find a foothold, and to understand the darkness at the heart of his family, he must face devastating truths about those closest to him--and about love, sex, and power. Evoking the immigrant experience with unsentimental precision and profound understanding, Gravel Heart is a powerfully affecting story of isolation, identity, belonging, and betrayal, and Abdulrazak Gurnah's most astonishing achievement.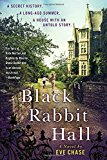 Black Rabbit Hall

by Eve Chase.

Paperback, 416 pages.
ISBN-10: 1101983159
"For fans of Kate Morton and Daphne du Maurier, Black Rabbit Hall is an obvious must-read."—Bookpage
 
A secret history. A long-ago summer. A house with an untold story.
 
Amber Alton knows that the hours pass differently at Black Rabbit Hall, her London family's Cornish country house, where no two clocks read the same. Summers there are perfect, timeless. Not much ever happens. Until, one terrible day, it does.

More than three decades later, Lorna is determined to be married within the grand, ivy-covered walls of Pencraw Hall, known as Black Rabbit Hall among the locals. But as she's drawn deeper into the overgrown grounds, she soon finds herself ensnared within the house's labyrinthine history, overcome with a need for answers about her own past and that of the once-golden family whose memory still haunts the estate.

Eve Chase's debut novel is a thrilling spiral into the hearts of two women separated by decades but inescapably linked by the dark and tangled secrets of Black Rabbit Hall.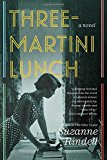 Three-Martini Lunch

by Suzanne Rindell.

Paperback, 512 pages.
ISBN-10: 0399574778
From the author of the "thrilling" (The Christian Science Monitor) novel The Other Typist comes an evocative, multilayered story of ambition, success, and secrecy in 1950s New York.
 
In 1958, Greenwich Village buzzes with beatniks, jazz clubs, and new ideas—the ideal spot for three ambitious young people to meet. Cliff Nelson, the son of a successful book editor, is convinced he's the next Kerouac, if only his father would notice. Eden Katz dreams of being an editor but is shocked when she encounters roadblocks to that ambition. And Miles Tillman, a talented black writer from Harlem, seeks to learn the truth about his father's past, finding love in the process. Though different from one another, all three share a common goal: to succeed in the competitive and uncompromising world of book publishing. As they reach for what they want, they come to understand what they must sacrifice, conceal, and betray to achieve their goals, learning they must live with the consequences of their choices. In Three-Martini Lunch, Suzanne Rindell has written both a page-turning morality tale and a captivating look at a stylish, demanding era—and a world steeped in tradition that's poised for great upheaval.


From the Hardcover edition.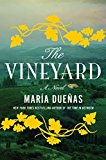 The Vineyard: A Novel

by Maria Duenas.

Hardcover, 544 pages.
ISBN-10: 1501124536
New York Times bestselling author Maria Dueñas returns with The Vineyard, a magnificent story of ambition, heartbreak, and desire set in the 1860s Mexico, Cuba, and Spain—perfect for fans of Kate Morton and Kristin Hannah.

Mauro Larrea's fortune, the result of years of hardship and toil, comes crashing down on the heels of a calamitous event. Swamped by debt and uncertainty, he gambles the last of his money in a daring play that wins him an abandoned house and a vineyard an ocean away. Mauro travels to Andalusia de Jerez in Spain with every intention of selling the property and returning to Mexico. That is, until he meets the unsettling Soledad Montalvo, the wife of a London wine merchant, who bursts into his life unannounced, determined to protect her family's legacy. Before long, Larrea finds himself immersed in the rich culture of the sherry trade. As his feelings for Soledad ripen into a consuming passion, he seeks to restore the vineyard to its former glory.

From the turbulent young Mexican republic to flourishing Havana, and onward to the fertile vineyards of Jerez in the second half of the nineteenth century, María Dueñas's new novel takes place on both sides of the Atlantic, the New World and the Old. This story of family intrigue vividly conjures the noise and grit of silver mines, and the earthier lure of ancient vineyards and magnificent cities whose splendor has faded. Here is a story of courage in the face of adversity and of a destiny forever altered by the force of passion.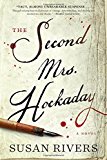 The Second Mrs. Hockaday: A Novel

by Susan Rivers.

Hardcover, 272 pages.
ISBN-10: 1616205814
SHORTLISTED FOR THE CENTER FOR FICTION FIRST NOVEL PRIZE

"Taut, almost unbearable suspense . . . This galvanizing historical portrait of courage, determination, and abiding love mesmerizes and shocks." —Booklist (starred review)

"All I had known for certain when I came around the hen house that first evening in July and saw my husband trudging into the yard after lifetimes spent away from us, a borrowed bag in his hand and the shadow of grief on his face, was that he had to be protected at all costs from knowing what had happened in his absence. I did not believe he could survive it."

When Major Gryffth Hockaday is called to the front lines of the Civil War, his new bride is left to care for her husband's three-hundred-acre farm and infant son. Placidia, a mere teenager herself living far from her family and completely unprepared to run a farm or raise a child, must endure the darkest days of the war on her own. By the time Major Hockaday returns two years later, Placidia is bound for jail, accused of having borne a child in his absence and murdering it. What really transpired in the two years he was away?

Inspired by a true incident, this saga conjures the era with uncanny immediacy. Amid the desperation of wartime, Placidia sees the social order of her Southern homeland unravel as her views on race and family are transformed. A love story, a story of racial divide, and a story of the South as it fell in the war, The Second Mrs. Hockaday reveals how that generation--and the next--began to see their world anew.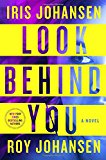 Look Behind You: A Novel (Kendra Michaels)

by Iris Johansen.

Hardcover, 336 pages.
ISBN-10: 125007598X
#1 New York Times bestselling author Iris Johansen and Edgar Award-winning author Roy Johansen are back with Look Behind You, a novel featuring Kendra Michaels?hired gun for both the CIA and FBI.
A serial killer is on the loose in San Diego with a most unusual M.O. With each kill, the perpetrator leaves behind mystifying random objects. In this confusing array of unrelated evidence, the one thing that is clear is that the murders all have one characteristic in common: they all require the specific skills of Kendra Michaels, hired gun for both the CIA and FBI. Kendra, who was blind for the first twenty years of her life, gained her sight through a revolutionary surgical procedure and now uses her acute powers of observation to assist in cases all over the United States.
FBI investigators soon make a startling discovery: the left-behind objects are actually souvenirs of other unsolved serial murder cases from around the country. And the new crimes feature "holdback" characteristics never disclosed to the general public?meaning that one single killer was behind the nation's most notorious serial murder cases and has now come to challenge and taunt Kendra.
The investigators?a "dream team" of profilers?join Kendra in the pursuit, but as the body count rises and the detectives themselves become the newest targets, Kendra must risk everything to defeat a psychopath whose terrifying plan is years in the making…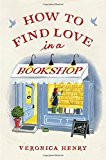 How to Find Love in a Bookshop

by Veronica Henry.

Hardcover, 352 pages.
ISBN-10: 0735223491
"Absolutely delightful." --People

The enchanting story of a bookshop, its grieving owner, a supportive literary community, and the extraordinary power of books to heal the heart 

Nightingale Books, nestled on the main street in an idyllic little village, is a dream come true for book lovers—a cozy haven and welcoming getaway for the literary-minded locals. But owner Emilia Nightingale is struggling to keep the shop open after her beloved father's death, and the temptation to sell is getting stronger. The property developers are circling, yet Emilia's loyal customers have become like family, and she can't imagine breaking the promise she made to her father to keep the store alive. 

There's Sarah, owner of the stately Peasebrook Manor, who has used the bookshop as an escape in the past few years, but it now seems there's a very specific reason for all those frequent visits. Next is roguish Jackson, who, after making a complete mess of his marriage, now looks to Emilia for advice on books for the son he misses so much. And the forever shy Thomasina, who runs a pop-up restaurant for two in her tiny cottage—she has a crush on a man she met in the cookbook section, but can hardly dream of working up the courage to admit her true feelings. 

Enter the world of Nightingale Books for a serving of romance, long-held secrets, and unexpected hopes for the future—and not just within the pages on the shelves. How to Find Love in a Bookshop is the delightful story of Emilia, the unforgettable cast of customers whose lives she has touched, and the books they all cherish.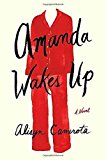 Amanda Wakes Up

by Alisyn Camerota.

Hardcover, 336 pages.
ISBN-10: 0399563997
The Devil Wears Prada meets Primary Colors in this breezy summer read, as seen in The New York Times, People, and O Magazine

When Amanda Gallo, fresh from the backwater of local TV, lands the job of her dreams at FAIR News—the coveted morning anchor slot—she's finally made it: a six-figure salary, wardrobe allowance, plenty of on-air face time, and a chance to realize her dreams, not to mention buy herself lunch. Amanda Wakes Up takes off as Amanda feels for the first time that she can make her mom and her best friend proud and think about an actual future with her boyfriend, Charlie. But she finds her journalistic ideals shredded as she struggles to keep up with the issues in a ratings-crazed madhouse—battling for hair and makeup time, coping with her sexist (but scathingly handsome) coanchor, Rob, mixing up the headlines with pajama modeling on the street, and showing Benji Diggs, her media maestro boss, that she's got what it takes.
 
As the news heats up in a hotly contested election season and a wild-card candidate, former Hollywood actor Victor Fluke, appears on the scene, Amanda's pressure-cooker job gets hotter as her personal life unravels. Walking a knife's edge between ambition and survival, and about to break the biggest story of her career, Amanda must decide what she's willing to give up to get ahead—and what she needs to hold on to save herself.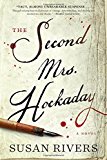 The Second Mrs. Hockaday: A Novel

by Susan Rivers.

Hardcover, 272 pages.
ISBN-10: 1616205814
SHORTLISTED FOR THE CENTER FOR FICTION FIRST NOVEL PRIZE

"Taut, almost unbearable suspense . . . This galvanizing historical portrait of courage, determination, and abiding love mesmerizes and shocks." —Booklist (starred review)

"All I had known for certain when I came around the hen house that first evening in July and saw my husband trudging into the yard after lifetimes spent away from us, a borrowed bag in his hand and the shadow of grief on his face, was that he had to be protected at all costs from knowing what had happened in his absence. I did not believe he could survive it."

When Major Gryffth Hockaday is called to the front lines of the Civil War, his new bride is left to care for her husband's three-hundred-acre farm and infant son. Placidia, a mere teenager herself living far from her family and completely unprepared to run a farm or raise a child, must endure the darkest days of the war on her own. By the time Major Hockaday returns two years later, Placidia is bound for jail, accused of having borne a child in his absence and murdering it. What really transpired in the two years he was away?

Inspired by a true incident, this saga conjures the era with uncanny immediacy. Amid the desperation of wartime, Placidia sees the social order of her Southern homeland unravel as her views on race and family are transformed. A love story, a story of racial divide, and a story of the South as it fell in the war, The Second Mrs. Hockaday reveals how that generation--and the next--began to see their world anew.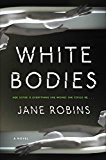 White Bodies: An Addictive Psychological Thriller

by Jane Robins.

Hardcover, 304 pages.
ISBN-10: 1501165089
A GOOD HOUSEKEEPING "GREAT READ"

"A deliciously creepy psychological thriller." —Publishers Weekly, starred review

This chilling psychological suspense novel—think Strangers on a Train for the modern age—explores the dark side of love and the unbreakable ties that bind twin sisters together.

Felix and Tilda seem like the perfect couple: young and in love, a financier and a beautiful, up-and-coming starlet. But behind their flawless façade, not everything is as it seems.

Callie, Tilda's unassuming twin, has watched her sister visibly shrink under Felix's domineering love. She has looked on silently as Tilda stopped working, nearly stopped eating, and turned into a neat freak, with mugs wrapped in Saran Wrap and suspicious syringes hidden in the bathroom trash. She knows about Felix's uncontrollable rages, and has seen the bruises on the white skin of her sister's arms.

Worried about the psychological hold that Felix seems to have over Tilda, Callie joins an Internet support group for victims of abuse and their friends. However, things spiral out of control and she starts to doubt her own judgment when one of her new acquaintances is killed by an abusive man. And then suddenly Felix dies—or was he murdered?

A page-turning work of suspense that announces a stunning new voice in fiction, White Bodies will change the way you think about obsession, love, and the violence we inflict on one another—and ourselves.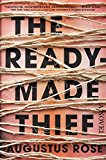 The Readymade Thief

by Augustus Rose.

Hardcover, 384 pages.
ISBN-10: 0735221839
"The most must-read of all must-reads." —Marie Claire

"A kickass debut from start to finish." —Colson Whitehead, author of The Underground Railroad

Lee Cuddy is seventeen years old and on the run.
 
Betrayed by her family after taking the fall for a friend, Lee finds refuge in a cooperative of runaways holed up in an abandoned building they call the Crystal Castle. But the façade of the Castle conceals a far more sinister agenda, one hatched by a society of fanatical men set on decoding a series of powerful secrets hidden in plain sight. And they believe Lee holds the key to it all.
 
Aided by Tomi, a young hacker and artist with whom she has struck a wary alliance, Lee escapes into the unmapped corners of the city—empty aquariums, deserted motels, patrolled museums, and even the homes of vacationing families. But the deeper she goes underground, the more tightly she finds herself bound in the strange web she's trying to elude. Desperate and out of options, Lee steps from the shadows to face who is after her—and why.
 
A novel of puzzles, conspiracies, secret societies, urban exploration, art history, and a singular, indomitable heroine, The Readymade Thief heralds the arrival of a spellbinding and original new talent in fiction.



The Second Sister: A Novel

by Claire Kendal.

Paperback, 496 pages.
ISBN-10: 0062297643
An obsessive quest to solve the mystery of her older sister's disappearance puts a young woman in mortal jeopardy in this taut, sophisticated novel of psychological suspense from the author of the "truly riveting" (New York Times) The Book of You. An intoxicating cocktail of loyalty and secrets, lies and betrayal, reminiscent of Rosamund Lupton's Sister and Kimberly McCreight's Reconstructing Amelia.
A decade ago, Ella Brooke's older sister, Miranda, vanished without a trace. With every passing year, Ella has come to resemble more closely the sister she lost—the same dark hair, the same piercing blue eyes—and now she's the same age Miranda was when she disappeared.
Ella has never let go of her sister. She can still feel Miranda's presence, still hear her voice. She still talks to her. What holds Ella together is her love for her sister's ten-year-old son and her work as a self-defense expert helping victims.
Ella is certain that Miranda was taken, and that one man is key to her disappearance: Jason Thorne. The tabloids report that a new link has been found connecting Miranda to this sadistic serial killer locked away in a psychiatric hospital. Ignoring warnings from the police and the disapproval of her parents, she seeks Thorne out. Ella will do whatever it takes to uncover the truth—no matter how dangerous…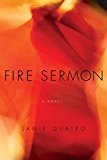 Fire Sermon

by Jamie Quatro.

Hardcover, 224 pages.
ISBN-10: 0802127045
The highly-anticipated, provocative debut novel from the "fearless" (New Yorker) and "distinctive" (San Francisco Chronicle) Jamie Quatro, Fire Sermon charts with bold intimacy and immersive sensuality the life of a married woman in the grip of a magnetic affair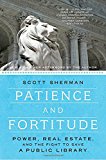 Patience and Fortitude: Power, Real Estate, and the Fight to Save a Public Library

by Scott Sherman.

Paperback, 224 pages.
ISBN-10: 1612196675
A riveting investigation of a beloved library caught in the crosshairs of real estate, power, and the people's interests—by the reporter who broke the story
 
In a series of cover stories for The Nation magazine, journalist Scott Sherman uncovered the ways in which Wall Street logic almost took down one of New York City's most beloved and iconic institutions: the New York Public Library.

In the years preceding the 2008 financial crisis, the library's leaders forged an audacious plan to sell off multiple branch libraries, mutilate a historic building, and send millions of books to a storage facility in New Jersey. Scholars, researchers, and readers would be out of luck, but real estate developers and New York's Mayor Bloomberg would get what they wanted.

But when the story broke, the people fought back, as famous writers, professors, and citizens' groups came together to defend a national treasure.

Rich with revealing interviews with key figures, Patience and Fortitude is at once a hugely readable history of the library's secret plans, and a stirring account of a rare triumph against the forces of money and power.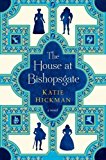 The House at Bishopsgate

by Katie Hickman.

Hardcover, 448 pages.
ISBN-10: 1608199452
A haunting, magical story of a cursed gem and the people who suffer in its wake, set in seventeenth-century London.
Most men of stature wouldn't marry their betrothed after she'd been kidnapped and forced into sexual slavery in the harem of the Great Turk, but Paul Pindar, wealthy merchant and former ambassador to Constantinople, is not most men. When Paul and Celia, finally reunited, return to London in 1611, his house at Bishopsgate has stood empty for nearly a decade. A phalanx of carpenters, upholsterers, and gardeners have been summoned to restore it to its former glory.
But all is not as it seems. Celia is frail, and their marriage, despite her longing, is childless. Traumatized by her experiences, she is unprepared for English society and the duties of managing a house with a full staff. Paul arranges for Celia's old friend, Annetta, to join them in England as Celia's companion, but Annetta arrives to find that another woman, the widow Frances Sydenham, has insinuated herself into the Pindar household. Lady Sydenham seems to have a mysterious hold over Celia and, Annetta suspects, increasingly over Paul.
Who is this woman, and what are her motives? Like everyone else, including members of the royal family and Pindar's greedy brother Rafe, she is fascinated by the Sultan Blue, the legendary diamond Pindar has brought back from the Middle East. All of London wants to get their hands on the jewel, despite the dark magic properties that are said to surround it, but Paul Pindar might be the only merchant who doesn't have a price.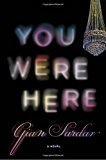 You Were Here

by Gian Sardar.

Hardcover, 384 pages.
ISBN-10: 0399575006
Readers of Kate Atkinson will delight in this suspenseful debut novel about a woman haunted by nightmares and her grandmother's role in a doomed love triangle almost seventy years before.

What if the past is never buried?

Death, accidental and early, has always been Abby Walters's preoccupation. Now thirty-three and eager to settle down with her commitment-shy boyfriend, a recurring dream from her past returns: a paralyzing nightmare of being buried alive, the taste of dirt in her mouth cloying and real. But this time the dream reveals a name from her family's past. Looking for answers, Abby returns home to small-town Minnesota for the first time in fourteen years, where she reconnects with her high school crush, now a police detective on the trail of a violent criminal. When Abby tries on her grandmother's mesmerizing diamond ring, a ring she always dreamed would be hers, she discovers a cryptic note long hidden beneath the box's velvet lining. What secret was her grandmother hiding? And could this be the key to what's haunting Abby? As she begins to uncover the traces of a love triangle gone shockingly wrong nearly seventy years before, we, too, see that the layers of our lives may echo a past we've never known. With mesmerizing twists and a long-buried secret that may finally rise to light, You Were Here weaves together two worlds separated by decades, asking if the mistakes made in past lives can ever be corrected in the future, and if some souls are meant to find one another time and time again.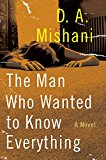 The Man Who Wanted to Know Everything: A Novel (Avraham Avraham Series)

by D. A. Mishani.

Paperback, 304 pages.
ISBN-10: 0062447904
Inspector Avraham Avraham is back in this sequel to the acclaimed thrillers A Possibility of Violence and The Missing File—internationally bestselling author D. A. Mishani's The Man Who Wanted to Know Everything is a hauntingly psychological domestic noir, perfect for fans of Alafair Burke or Liad Shoham.
Called on a stormy night to the scene of his first murder investigation as the new commander of investigations, Inspector Avraham Avraham is shocked to discover that he knows the victim: Leah Yeger, a widow found brutally murdered in her home and the victim of a rape that he investigated some years prior. But with her rapist still behind bars, Avraham's only lead is an eyewitness claiming he saw a policeman leave the scene of the crime—a policeman who seems to have since vanished into thin air.
Risking the cooperation of his police force, Avraham is determined to follow the lead, working feverishly to solve the case—no matter the cost. But when his investigation leads him to Mazal Bengtson—a young woman struggling to escape a tortured past and salvage a marriage gone horribly wrong—the complex case takes on an even more baffling, disturbing turn...
Told through the dual perspectives of Inspector Avraham and Mazal Bengtson,
The Man Who Wanted To Know Everything
is a chilling investigation of secrets, family, and what happens when the people you love may not be who you think.
My Own Dear Brother

by Holly Müller.

Hardcover, 464 pages.
ISBN-10: 1632865335
An unforgettable, nightmarish coming-of-age story set in rural Austria towards the end of World War II.
It is 1944, and war has taken the men in Nazi-controlled Austria to the front line. For thirteen-year-old Ursula Hildesheim, life in the village of Felddorf remains almost as it was: bullied by her schoolmates, enlisted in endless chores by her mother and sister, thieving, and running wild with her adored older brother, Anton.
But then Russian prisoners escape from the local concentration camp, her mother starts an affair with a married man, her only friend goes missing, and her brother's allegiance to the Hitler Youth emerges in shocking ways--and Ursula finds herself alone, disturbed by dark memories, and surrounded by threat.
In this new world of conflict, Ursula discovers a bravery she has never known before and is forced to recognize that danger comes not only from the enemy at the door but from the enemy within.
My Own Dear Brother is a remarkable coming-of-age story and an unflinching study of both cruelty and courage. Rich in folklore, it introduces a daring young heroine and a powerful new literary voice.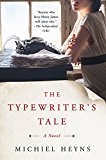 The Typewriter's Tale: A Novel

by Michiel Heyns.

Hardcover, 288 pages.
ISBN-10: 1250119006
"Live all you can; it's a mistake not to."
This is the maxim of celebrated author Henry James and one which his typist Frieda Wroth tries to live up to. Admiring of the great author, she nevertheless feels marginalized and undervalued in her role. But when the dashing Morton Fullerton comes to visit, Frieda finds herself at the center of an intrigue every bit as engrossing as the novels she types, bringing her into conflict with the flamboyant Edith Wharton, and compromising her loyalty to James.

The Typewriter's Tale by Michiel Heyns is a thought-provoking novel on love, art and life fully lived.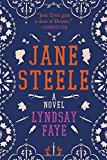 Jane Steele

by Lyndsay Faye.

Paperback, 448 pages.
ISBN-10: 0425283208
Nominated for the 2017 Edgar Award for Best Novel

The reimagining of Jane Eyre as a gutsy, heroic serial killer that The New York Times Book Review calls "wonderfully entertaining" and USA Today describes as "sheer mayhem meets Victorian propriety."
 
"A thrill ride of a novel. A must read for lovers of Jane Eyre, dark humor, and mystery."
—PopSugar.com

"Reader, I murdered him."

A sensitive orphan, Jane Steele suffers first at the hands of her spiteful aunt and predatory cousin, then at a grim school where she fights for her very life until escaping to London, leaving the corpses of her tormentors behind her. After years of hiding from the law while penning macabre "last confessions" of the recently hanged, Jane thrills at discovering an advertisement. Her aunt has died and her childhood home has a new master: Mr. Charles Thornfield, who seeks a governess.

Burning to know whether she is in fact the rightful heir, Jane takes the position incognito and learns that Highgate House is full of marvelously strange new residents—the fascinating but caustic Mr. Thornfield, an army doctor returned from the Sikh Wars, and the gracious Sikh butler Mr. Sardar Singh, whose history with Mr. Thornfield appears far deeper and darker than they pretend. As Jane catches ominous glimpses of the pair's violent history and falls in love with the gruffly tragic Mr. Thornfield, she faces a terrible dilemma: Can she possess him—body, soul, and secrets—without revealing her own murderous past?

A satirical romance about identity, guilt, goodness, and the nature of lies, by a writer who Matthew Pearl calls "superstar-caliber" and whose previous works Gillian Flynn declared "spectacular," Jane Steele is a brilliant and deeply absorbing book inspired by Charlotte Brontë's classic Jane Eyre.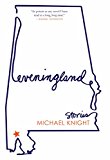 Eveningland: Stories

by Michael Knight.

Hardcover, 304 pages.
ISBN-10: 0802125972
?Michael Knight is more than a master of the short story. He knows the true pace of life and does not cheat it, all the while offering whopping entertainment."?Barry Hannah

Long considered a master of the form and an essential voice in American fiction, Michael Knight's stories have been lauded by writers such Ann Patchett, Elizabeth Gilbert, Barry Hannah, and Richard Bausch. Now, with Eveningland he returns to the form that launched his career, delivering an arresting collection of interlinked stories set among the ?right kind of Mobile family" in the years preceding a devastating hurricane.

Grappling with dramas both epic and personal, from the Deepwater Horizon oil spill to the ?unspeakable misgivings of contentment," Eveningland captures with crystalline poeticism and perfect authenticity of place the ways in which ordinary life astounds us with its complexity. A teenaged girl with a taste for violence holds a burglar hostage in her house on New Year's Eve; a middle aged couple examines the intricacies of their marriage as they prepare to throw a party; and a real estate mogul in the throes of grief buys up all the property on an island only to be accused of madness by his daughters. These stories, told with economy and precision, infused with humor and pathos, excavate brilliantly the latent desires and motivations that drive life forward.

Eveningland is a luminous collection from ?a writer of the first rank."(Esquire)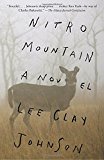 Nitro Mountain

by Lee Clay Johnson.

Paperback, 222 pages.
ISBN-10: 1101912448
In the mine-riddled town of Bordon, Virginia, a group of lost souls are bound together by alcohol, small-time crime, and music.

Leon is a lovesick bass player with a broken hand and a belief that next time—next time—he'll definitely get it right; Jennifer is the bright-but-battered waitress who can't quite escape the orbit of Arnett, the local drug dealer. When Jennifer convinces Leon to murder Arnett so she can finally be free, a dark chain of events is set in motion, one whose violence echoes the pain and misery that inspire so much of the misery that these people love more than life itself.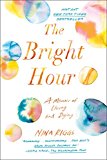 The Bright Hour: A Memoir of Living and Dying

by Nina Riggs.

Hardcover, 320 pages.
ISBN-10: 1501169351
* INSTANT NEW YORK TIMES BESTSELLER *

"Stunning…heartrending…this year's When Breath Becomes Air." —Nora Krug, The Washington Post

"Beautiful and haunting." —Matt McCarthy, MD, USA TODAY

"Deeply affecting…simultaneously heartbreaking and funny." —People (Book of the Week)

"Vivid, immediate." —Laura Collins-Hughes, The Boston Globe

Starred reviews from * Kirkus Reviews * Publishers Weekly * Library Journal *

Most Anticipated Summer Reading Selection by * The Washington Post * Entertainment Weekly * Glamour * The Seattle Times * Vulture * InStyle * Bookpage * Bookriot * Real Simple * The Atlanta Journal-Constitution *

An exquisite memoir about how to live—and love—every day with "death in the room," from poet Nina Riggs, mother of two young sons and the direct descendant of Ralph Waldo Emerson, in the tradition of When Breath Becomes Air.

"We are breathless, but we love the days. They are promises. They are the only way to walk from one night to the other."

Nina Riggs was just thirty-seven years old when initially diagnosed with breast cancer—one small spot. Within a year, the mother of two sons, ages seven and nine, and married sixteen years to her best friend, received the devastating news that her cancer was terminal.

How does one live each day, "unattached to outcome"? How does one approach the moments, big and small, with both love and honesty?

Exploring motherhood, marriage, friendship, and memory, even as she wrestles with the legacy of her great-great-great grandfather, Ralph Waldo Emerson, Nina Riggs's breathtaking memoir continues the urgent conversation that Paul Kalanithi began in his gorgeous When Breath Becomes Air. She asks, what makes a meaningful life when one has limited time?

Brilliantly written, disarmingly funny, and deeply moving, The Bright Hour is about how to love all the days, even the bad ones, and it's about the way literature, especially Emerson, and Nina's other muse, Montaigne, can be a balm and a form of prayer. It's a book about looking death squarely in the face and saying "this is what will be."

Especially poignant in these uncertain times, The Bright Hour urges us to live well and not lose sight of what makes us human: love, art, music, words.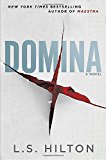 Domina

by L.S. Hilton.

Hardcover, 320 pages.
ISBN-10: 0399184821
In this riveting sequel to the instant New York Times bestseller, Maestra, femme fatale Judith Rashleigh once again leads readers into the mesmerizing and dangerous underworld of Europe's glamorous elite.
 
Since opening her own art gallery in Venice, Judith Rashleigh—now Elisabeth Teerlinc—can finally stop running. She's got the paycheck, lifestyle, and wardrobe she always dreamed of, not to mention the interest of a Russian billionaire. But when a chance encounter in Ibiza leads to a corpse that is, for once, not her own doing, she finds her life is back on the line—and she's more alone than ever. It seems Judith's become involved with more than just one stolen painting, and there is someone else willing to kill for what's theirs.

From St. Moritz to Serbia, Judith again finds herself maneuvering the strange landscapes of wealth, but this time there's far more than her reputation at stake. How far will Rage take Judith? Far enough to escape death?

The second installment in an unforgettable trilogy, Domina is the next sexy, ruthless, and decadent thriller from mastermind L. S. Hilton, and an adventure that will push Judith further than even she imagined she could go.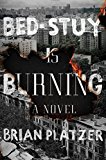 Bed-Stuy Is Burning: A Novel

by Brian Platzer.

Hardcover, 336 pages.
ISBN-10: 1501146955
"Platzer's take on race, religion, class, and politics—all the subjects you're not supposed to discuss—is sure to get people talking." —Vanity Fair

Do the Right Thing meets The Bonfire of the Vanities, in this "thrilling debut novel about marriage, gentrification, parenthood, race, and the dangerous bargains we make with ourselves" (Ann Packer, New York Times bestselling author) set over the course of one cataclysmic day when riots erupt in a rapidly gentrifying Brooklyn neighborhood.

Aaron, a disgraced rabbi turned Wall Street banker, and Amelia, his journalist girlfriend, live with their newborn in Bedford-Stuyvesant, one of the most dynamic and historically volatile neighborhoods in New York City. The infusion of upwardly mobile professionals into Bed-Stuy's historic brownstones belies the tension simmering on the streets below. But after a cop shoots a boy in a nearby park, conflict escalates to rioting—with Aaron and his family at its center.

Pulled into the riot's vortex are Antoinette, devout nanny to Aaron and Amelia's son; Jupiter, the single father who lives on their block with his son, Derek; Daniel, Aaron's unhinged tenant in their basement unit; and Sara, a smart local girl, broiling with confusion and rage. As the day unfolds, these diverse characters are forced to reckon with who they are and what truly matters to them.

With "the mordant wit of Franzen, the dazzling smarts of Roth, and the compassion of Tolstoy" (Rafael Yglesias, author of A Happy Marriage), Platzer conjures a sharp-eyed, fast-paced, and empathetically rendered narrative about a changing neighborhood and its residents, as they struggle to raise children, establish careers, and find love, fulfillment, and meaning. Bed-Stuy Is Burning offers a window into an array of complex lives and deftly wrestles with the most pressing issues of our time with unflinching focus, wisdom, and hope.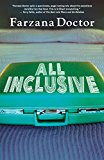 All Inclusive

by Farzana Doctor.

Paperback, 268 pages.
ISBN-10: 1459731816
A story about one all-inclusive resort, the ghost of an unknown father, and the tragedies we can't forget.

What's it like when everyone's dream vacation is your job? Ameera works at a Mexican all-inclusive resort, where every day is paradise ? if "paradise" means endless paperwork, quotas to meet, and entitled tourists. But it's not all bad: Ameera's pastime of choice is the swingers scene, and the resort is the perfect place to hook up with like-minded couples without all the hassle of having to see them again.

Despite Ameera's best efforts to keep her sideline a secret, someone is spreading scandalous rumours about her around the resort, and her job might be at stake. Meanwhile, she's being plagued by her other secret, the big unknown of her existence: the identity of her father and why he disappeared. Unbeknownst to Ameera, her father, Azeez, is looking for her, and they both must come to terms with the reason why he abandoned her.

A moving new work from award-winning author Farzana Doctor, All Inclusive blurs the lines between the real world and paradise, and life and death, and reminds us that love is neither easily lost nor found.

Now Magazine Best Author • Kobo Best Book of the Year ? Canadian Favourites Category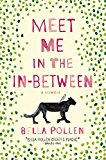 Meet Me in the In-Between: A Memoir

by Bella Pollen.

Hardcover, 320 pages.
ISBN-10: 0802126588
A provocative and lively memoir in stories by the bestselling, "Richard and Judy" selected author of The Summer of the Bear
Growing up the middle child of transatlantic parents?her down- to-earth mother and romantic father?Bella Pollen never quite figured out how to belong. Restlessly crossing back and forth between the boundaries of family and freedom, England and America, home and away, she has sought but generally failed to contain an adventurous spirit within the confines of conventional living.

When she awakes one morning stymied by an existential panic, Pollen grudgingly concludes that in order to move forward, she needs to take a good look at her past. In Meet Me in the In-Between, Pollen takes us on the illuminating journey of a life, from her privileged, unorthodox childhood in Upper Manhattan through early marriage to a son of an alluring Mafioso, to the dusty border towns of Mexico where she falls in with a crowd of Pink Floyd–loving smugglers. Throughout all, Bella grapples intently with relationships, motherhood, career ups and downs, and a pathological fear of being boxed in.

Interwoven with exquisite passages of graphic memoir, this is a tender, funny, and deeply honest story of one woman's quest to keep looking for the extraordinary in an ordinary life. With patented mix of humor and pain, novelist Bella Pollen takes a dead-on look at what it means to be a smart, reasonably sane woman navigating the modern world.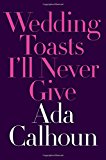 Wedding Toasts I'll Never Give

by Ada Calhoun.

Hardcover, 192 pages.
ISBN-10: 0393254798
Inspired by her viral New York Times "Modern Love" essay "The Wedding Toast I'll Never Give", Ada Calhoun's memoir is a witty, poignant exploration of the beautiful complexity of marriage.
We hear plenty about whether or not to get married, but much less about what it takes to stay married. Clichés around marriage?eternal bliss, domestic harmony, soul mates?leave out the real stuff. After marriage you may still want to sleep with other people. Sometimes your partner will bore the hell out of you. And when stuck paying for your spouse's mistakes, you might miss being single.
In Wedding Toasts I'll Never Give, Ada Calhoun presents an unflinching but also loving portrait of her own marriage, opening a long-overdue conversation about the institution as it truly is: not the happy ending of a love story or a relic doomed by high divorce rates, but the beginning of a challenging new chapter of which "the first twenty years are the hardest."
Calhoun's funny, poignant personal essays explore the bedrooms of modern coupledom for a nuanced discussion of infidelity, existential anxiety, and the many other obstacles to staying together. Both realistic and openhearted, Wedding Toasts I'll Never Give offers a refreshing new way to think about marriage as a brave, tough, creative decision to stay with another person for the rest of your life. "What a burden," Calhoun calls marriage, "and what a gift."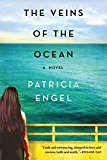 The Veins of the Ocean: A Novel

by Patricia Engel.

Paperback, 416 pages.
ISBN-10: 080212674X
A New York Times Editors' Choice and a finalist for the International Latino Book Award

"Lush and entrancing, steeped in love and sorrow, faith and myth. . . Patricia Engel is a gorgeous writer and I love the confidence of her prose. She knows the story she is telling, inside and out. She knows the story and its unfathomable depths and so that's how we experience reading this novel?fully, deeply, like an ocean." ?Roxane Gay for Book of the Month Club

From award-winning author, Patricia Engel, The Veins of the Ocean is the profound and riveting story of a young woman's journey away from her family's painful past towards redemption and a freer future. Set in the vibrant coastal communities of Miami, the Florida Keys, Havana, and Cartagena, The Veins of the Ocean is a wrenching exploration of what happens when life tests the limits of compassion, and a stunning and unforgettable portrait of fractured lives finding solace in the beauty and power of the natural world, and in one another.

"[A] profound, daring venture . . . [Engel is] a unique and necessary voice for the Americas . . . the book is a great pleasure to read, even while it's breaking your heart." ?San Francisco Chronicle

"Sumptuous . . . This is a writer who understands that exile can be as much an emotional state as a geographical one . . . to immerse oneself in Engel's prose is to surrender to a seductive embrace, a hypnotic beauty that mingles submersion with submission."?New York Times Book Review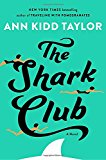 The Shark Club

by Ann Kidd Taylor.

Hardcover, 288 pages.
ISBN-10: 0735221472
"A quintessential summer read." —Marie Claire
 
A warm and wonderfully vivid novel about taking second chances—in life and in the sea
 
One summer day on the beach in Florida, two extraordinary things happen to Maeve Donnelly. First, she is kissed by Daniel, the boy of her dreams. Then, she is bitten by a blacktip shark.
 
Eighteen years later, Maeve has thrown herself into her work as a world-traveling marine biologist discovering more about the minds of misunderstood sharks. But when Maeve returns home to the legendarily charming and eccentric Hotel of the Muses where she was raised by her grandmother, she finds more than just the blood orange sunsets and key lime pies she's missed waiting for her.
 
While Maeve has always been fearless in the water, on land she is indecisive. A chance meeting on the beach with a plucky, irresistible little girl who is just as fascinated by the ocean as Maeve was growing up leaves her at a crossroads: Should she re-kindle her romance with Daniel, the first love she left behind when she dove into her work? Or indulge in a new romance with her colleague, Nicholas, who turns up in her hometown to investigate an illegal shark-finning operation?   
 
Set against the intoxicating backdrop of palm trees, calypso bands, and perfect ocean views, The Shark Club is a story of the mysterious passions of one woman's life: her first love and new love; the sea and sharks that inhabit it.
Two Good Dogs: A Novel

by Susan Wilson.

Hardcover, 352 pages.
ISBN-10: 1250078121
Susan Wilson, the bestselling author of One Good Dog delivers another powerful novel of loyalty and love.
Single mom Skye Mitchell has sunk her last dime into a dream, owning the venerable, if run-down LakeView Hotel in the Berkshire Hills. It's here where she believes she'll give her fourteen-year-old daughter Cody a better life. But being an innkeeper is more challenging than she imagined, and Cody still manages to fall in with the wrong crowd. In addition, Cody is keeping an earth-shattering secret that she's terrified to reveal. The once loving, open girl has now become completely withdrawn, and Skye is both desperate and helpless to reach her.
When Adam March and his pit bull Chance check into the hotel, it becomes the first of many visits. Here in these peaceful mountains he finds an unexpected relief from his recent bereavement. He and the beleaguered innkeeper form a tentative friendship. Adam knows the struggles of raising a difficult teenager and Skye understands loneliness.
And then there is Mingo, a street kid with a pit bull dog of his own. When Cody discovers an overdosed Mingo, Adam takes the boy's dog not just for safekeeping, but to foster and then rehome. But the dog isn't the only one who needs saving. A makeshift family begins to form as four lost people learn to trust and rely on each other, with the help of two good dogs.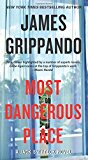 Most Dangerous Place: A Jack Swyteck Novel

by James Grippando.

Hardcover, 480 pages.
ISBN-10: 0062440586
According to the FBI, the most dangerous place for a woman between the ages of twenty and thirty is in a relationship with a man. Those statistics become all too personal when Jack Swyteck takes on a new client from his past, in this spellbinding tale of suspense.
It begins at the airport, where Jack is waiting to meet his old high school buddy Kevin Ingraham, a high-powered banker based in Hong Kong, coming to Miami for his young daughter's surgery. But their long-awaited reunion is abruptly derailed when the police arrest Kevin's wife, Isabelle. She is accused of conspiring to kill the man who raped her in college. Jack quickly agrees to represent Isa, but soon discovers that to see justice done, he must separate the truth from lies—an undertaking that proves more complicated than the seasoned attorney expects.
Inspired by an actual case, James Grippando's twisty thriller brilliantly explores the fine line between victim and perpetrator, innocence and guilt, and cold-blooded revenge and rightful retribution.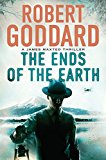 Ends of the Earth: A James Maxted Thriller

by Robert Goddard.

Hardcover, 400 pages.
ISBN-10: 0802126561
Internationally bestselling author Robert Goddard has been called ?a master of the sly double- and triple-cross" (Seattle Times). In the third installment of the James Maxted thriller series, starring a dashing Royal Flying Corps veteran turned secret service operative, the truth about allegiances has never been less certain.

The Treaty of Versailles has finally been signed, officially ending the World War I peace negotiations, and the action shifts east, to Tokyo, where a team assembled at Max's behest anxiously awaits his arrival on the docks. Max had arrived in Paris soon after the end of the Great War to investigate the suspicious death of his father, a British diplomat named Sir Henry, and soon plunged into a treacherous game of cat-and-mouse with the people behind his father's death: German spymaster Fritz Lemmer and the dark horse of the Japanese diplomatic contingent, Count Tomura. It is in Japan—where Sir Henry worked as a young government agent—that Max hopes to finally uncover the whole truth behind his father's murder and take down Lemmer's spy network once and for all. But what Max's cohort doesn't know is that his own storyline seems to have come to an end in a villa outside Marseilles. Stuck in limbo, the team decides to pursue their only lead—right into Lemmer's den.

Loaded with death threats, knife fights, a kidnapping or two, and a coded list that has the power to dismantle whole governmental hierarchies, The Ends of the Earth is a masterful work of historical cut-and-thrust that tests the bonds of family and country to their very limit.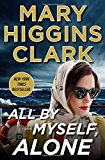 All By Myself, Alone: A Novel

by Mary Higgins Clark.

Hardcover, 336 pages.
ISBN-10: 1501131117
A glamorous cruise on a luxurious ocean liner turns deadly in the latest mystery from "Queen of Suspense" and #1 New York Times bestselling author Mary Higgins Clark.

Fleeing a disastrous and humiliating arrest of her husband-to-be on the eve of their wedding, Celia Kilbride, a gems and jewelry expert, hopes to escape from public attention by lecturing on a brand-new cruise ship—the Queen Charlotte.

On board she meets eighty-six-year-old Lady Emily Haywood, "Lady Em," as she is known throughout the world. Immensely wealthy, Lady Em is the owner of a priceless emerald necklace that she intends to leave to the Smithsonian after the cruise.

Three days out to sea Lady Em is found dead—and the necklace is missing. Is it the work of her apparently devoted assistant, Brenda Martin, or her lawyer-executor, Roger Pearson, and his wife, Yvonne, both of whom she had invited to join them on the cruise? Or is it Professor Henry Longworth, an acclaimed Shakespeare scholar who is lecturing on board? Or Alan Davidson, a guest on the ship who is planning to spread his wife's ashes at sea? The list of suspects is large and growing.

Celia, with the help of her new friends Willy and Alvirah Meehan, who are celebrating their forty-fifth wedding anniversary, sets out to find the killer, not realizing that she has put herself in mortal danger before the ship reaches its final destination.

Never, in all her long career as a #1 bestselling suspense novelist, has Mary Higgins Clark been in better form.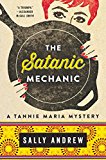 The Satanic Mechanic

A Tannie Maria Mystery
by Sally Andrew.
Hardcover, 384 pages.
ISBN-10: 0062397699
Tannie Maria, recipe writer turned crime fighter, writes the love advice and recipe column for the Klein Karoo Gazette: words of wisdom for the lovelorn, along with a recipe for something helpful and delicious. But Maria has a problem of her own. Her relationship with the rugged detective Henk Kannemeyer is still haunted by the memory of her abusive late husband, so she decides to check out a counseling group run by a man they call the Satanic Mechanic. Then a local land-rights activist is murdered—poisoned before her eyes—and Tannie Maria's quest for healing takes a more investigative turn. Which means her relationship with Henk is about to get professional. And more important, very complicated.
There is no shortage of conundrums personal and investigative for an amateur sleuth to confront in this delightful, warm-hearted sequel to Sally Andrew's Recipes for Love and Murder. Blending a madcap mystery with lovable characters in the beautiful setting of South Africa's rural Klein Karoo, Sally Andrew really does have the perfect recipe for a crime series.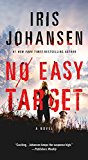 No Easy Target

A Novel
by Iris Johansen.
Hardcover, 416 pages.
ISBN-10: 1250075912
From #1 New York Times bestselling author Iris Johansen, an explosive thriller featuring fan favorite Margaret Douglas, an animal psychic
ON THE RUN
Margaret Douglas has worked hard to put her painful past behind her. Raised off the grid in an abusive home, her only escape was the nearby forest where she sought refuge whenever she could. There, in the peaceful woods, she discovered a strange gift: the ability to understand animals and to communicate with them. Now, Margaret wants nothing more than to live a quiet life, close to the animals and under the radar. But her abilities have not gone unnoticed…and there are those who would use them for their own purposes. Determined not to be a pawn in anyone's game, every time someone gets too close, Margaret uproots her life and outruns them.
INTO THE LINE OF FIRE
When CIA operative John Lassiter breaks into Margaret's apartment, she vanishes again. Still, Lassiter has good reason to be persistent: one of his men is being held captive by an unrelenting enemy?someone who has set his sights on Margaret. Which means that Lassiter must control her to use her as bait…With danger in hot pursuit, Margaret finds herself matching wits with a man who refuses to stop or be stopped. Turning from the hunted to the hunter, Margaret must use everything she has ever learned to not only survive, but to defeat a great evil. And to prove once and for all that she's no easy target. . .
This edition of the book is the deluxe, tall rack mass market paperback.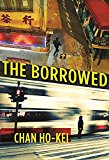 The Borrowed

by Chan Ho-Kei.

Paperback, 496 pages.
ISBN-10: 0802125883
From award-winning Hong Kong writer Chan Ho-Kei, The Borrowed tells the story of Kwan Chun-dok, a Hong Kong detective whose career spans fifty years of the territory's history. A deductive powerhouse, Kwan becomes a legend in the force, nicknamed ?the Eye of Heaven" by his awe-struck colleagues. Divided into six sections told in reverse chronological order?each of which covers an important case in Kwan's career and takes place at a pivotal moment in Hong Kong history from the 1960s to the present day?The Borrowed follows Kwan from his experiences during the Leftist Riot in 1967, when a bombing plot threatens many lives; the conflict between the HK Police and ICAC (Independent Commission Against Corruption) in 1977; the Tiananmen Square Massacre in 1989; to the Handover in 1997; and the present day of 2013, when Kwan is called on to solve his final case, the murder of a local billionaire, while Hong Kong increasingly resembles a police state. Along the way we meet Communist rioters, ultraviolent gangsters, stallholders at the city's many covered markets, pop singers enmeshed in the high-stakes machinery of star-making, and a people always caught in the shifting balance of political power, whether in London or Beijing?all coalescing into a dynamic portrait of this fascinating city.

Tracing a broad historical arc, The Borrowed reveals just how closely everything is connected, how history always repeats itself, and how we have come full circle to repeat the political upheaval and societal unrest of the past. It is a gripping, brilliantly constructed novel from a talented new voice.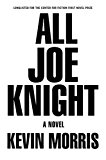 All Joe Knight: A Novel

by Kevin Morris.

Hardcover, 368 pages.
ISBN-10: 0802125786
A prominent figure in the entertainment world who has turned to fiction in the last decade, Kevin Morris received wide literary acclaim with his story collection White Man's Problems, praised by David Carr as ?remarkable" and Tom Perrotta as ?revelatory." Now Morris cements his place as a bold new voice in American literature with his muscular debut novel, All Joe Knight.

1961. Outside Philadelphia, a soon-to-be father runs into a telephone pole while driving drunk; nine months later, his widow dies in a smashed up T-Bird. From the start, the orphaned Joe Knight is a blank slate. Taken in by a kindly aunt in a tough-skinned suburb, Joe finds his family in high school with the Fallcrest basketball team?the kind of team that comes around once in a lifetime. White guys, black guys, speed, height, raw athleticism, every element is perfectly in synch. All these kids want, all they dream of, is to make it to the Palestra, UPenn's cathedral of college basketball.

Fast-forward thirty years. Joe is newly divorced with one kid and certain he is unfit for love. Ever since selling the ad firm he built from the ground up for millions, he's had time on his hands, and now he wiles it away in strip clubs, the only place where he can quiet his mind. But then he hears from Chris Scully, a former Fallcrest teammate who is now District Attorney. It seems the Justice Department is sniffing around the deal that got Joe rich years ago?a deal he cut every member of the basketball team into, except for Scully. As the details about Joe's possible transgression are unreeled, he is forced to face the emptiness inside himself and a secret that has haunted him for decades.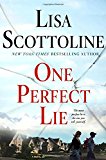 One Perfect Lie

by Lisa Scottoline.

Hardcover, 368 pages.
ISBN-10: 1250099560
"Scottoline keeps the pace relentless as she drops a looming threat into the heart of an idyllic suburban community, causing readers to hold their breath in anticipation." –Booklist
"Readers can be assured that the author nails the high school milieu, from athletic rivalries to sexting...they're in for one thrilling ride." –Kirkus Reviews
"Entertaining...This fast-paced read culminates in a daring chase that would play well on the big screen." –Publishers Weekly
On paper, Chris Brennan looks perfect. He's applying for a job as a high school government teacher, he's ready to step in as an assistant baseball coach, and his references are impeccable.
But everything about Chris Brennan is a lie.
Susan Sematov is proud of her son Raz, a high school pitcher so athletically talented that he's being recruited for a full-ride scholarship to a Division I college, with a future in major-league baseball. But Raz's father died only a few months ago, leaving her son in a vulnerable place where any new father figure might influence him for good, or evil.
Heather Larkin is a struggling single mother who lives for her son Justin's baseball games. But Justin is shy, and Heather fears he is being lured down a dark path by one of his teammates, a young man from an affluent family whose fun-loving manner might possibly conceal his violent plans.
Mindy Kostis succumbs to the pressure of being a surgeon's wife by filling her days with social events and too many gin and tonics. But she doesn't know that her husband and her son, Evan, are keeping secrets from her – secrets that might destroy all of them.
At the center of all of them is Chris Brennan. Why is he there? What does he want? And what is he willing to do to get it?
Enthralling and suspenseful, One Perfect Lie is an emotional thriller and a suburban crime story that will have readers riveted up to the shocking end, with killer twists and characters you won't soon forget.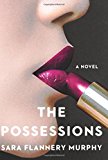 The Possessions: A Novel

by Sara Flannery Murphy.

Hardcover, 368 pages.
ISBN-10: 0062458329
"I was totally immersed in the strange, beautiful world of Sara Flannery Murphy's The Possessions. A gripping, chilling read that's part love story, part mystery, and completely original, it's sensuous, scary, and utterly thrilling. I've never read anything quite like it." —Anton DiSclafani, author of The Yonahlossee Riding Camp for Girls
"An enthralling meditation on grief and memory cloaked in suspenseful psychodrama, The Possessions dissolves the boundaries of past and present and artfully, heartbreakingly maps the consequences of transgressive desire. Sara Flannery Murphy has written the best kind of ghost story." —Robin Wasserman, author of Girls on Fire
In this electrifying literary debut, a young woman who channels the dead for a living crosses a dangerous line when she falls in love with one of her clients, whose wife died under mysterious circumstances.
In an unnamed city, Eurydice works for the Elysian Society, a private service that allows grieving clients to reconnect with lost loved ones. She and her fellow workers, known as "bodies", wear the discarded belongings of the dead and swallow pills called lotuses to summon their spirits—numbing their own minds and losing themselves in the process. Edie has been a body at the Elysian Society for five years, an unusual record. Her success is the result of careful detachment: she seeks refuge in the lotuses' anesthetic effects and distances herself from making personal connections with her clients.
But when Edie channels Sylvia, the dead wife of recent widower Patrick Braddock, she becomes obsessed with the glamorous couple. Despite the murky circumstances surrounding Sylvia's drowning, Edie breaks her own rules and pursues Patrick, moving deeper into his life and summoning Sylvia outside the Elysian Society's walls.
After years of hiding beneath the lotuses' dulling effect, Edie discovers that the lines between her own desires and those of Sylvia have begun to blur, and takes increasing risks to keep Patrick within her grasp. Suddenly, she finds her quiet life unraveling as she grapples not only with Sylvia's growing influence and the questions surrounding her death, but with her own long-buried secrets.
A tale of desire and obsession, deceit and dark secrets that defies easy categorization, The Possessions is a seductive, absorbing page-turner that builds to a shattering, unforgettable conclusion.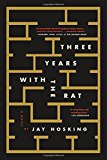 Three Years with the Rat: A Novel

by Jay Hosking.

Hardcover, 288 pages.
ISBN-10: 1250116309
"Three Years with the Rat is a mind-warping thriller that will make you question reality as you conceive of it. One of the most assured and haunting debuts I've read in recent memory." ?Blake Crouch, author of Dark Matter

After several years of drifting between school and go-nowhere jobs, a young man is drawn back into the big city of his youth. The magnet is his beloved older sister, Grace: always smart and charismatic even when she was rebelling, and always his hero. Now she is a promising graduate student in psychophysics and the center of a group of friends who take "Little Brother" into their fold, where he finds camaraderie, romance, and even a decent job.
But it soon becomes clear that things are not well with Grace. Always acerbic, she now veers into sudden rages that are increasingly directed at her adoring boyfriend, John, who is also her fellow researcher. When Grace disappears, and John shortly thereafter, the narrator makes an astonishing discovery in their apartment: a box big enough to crawl inside, a lab rat, and a note that says This is the only way back for us. Soon he embarks on a mission to discover the truth, a pursuit that forces him to question time and space itself, and ultimately toward a perilous confrontation at the very limits of imagination.
This kinetic novel catapults the classic noir plot of a woman gone missing into the twenty-first-century city, where so-called reality crashes into speculative science. Jay Hosking's Three Years with the Rat is simultaneously a mind-twisting mystery that plays with the very nature of time and the story of a young man who must face the dangerously destructive forces we all carry within ourselves.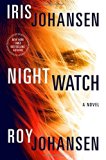 Night Watch: A Novel (Kendra Michaels)

by Iris Johansen.

Hardcover, 352 pages.
ISBN-10: 1250075971
"A high-stakes, high-powered thriller." ?Booklist
Sometimes, what you can't see will kill you…
Kendra is surprised when she is visited by Dr. Charles Waldridge, the researcher who gave her sight through a revolutionary medical procedure developed by England's Night Watch Project. All is not well with the brilliant surgeon; he's troubled by something he can't discuss with Kendra. When Waldridge disappears the very night he visits her, Kendra is on the case, recruiting government agent-for-hire Adam Lynch to join her on a trail that leads to the snow-packed California mountains. There they make a gruesome discovery: the corpse of one of Dr. Waldridge's associates. But it's only the first casualty in a white-knuckle confrontation with a deadly enemy who will push Kendra to the limits of her abilities. Soon she must fight for her very survival as she tries to stop the killing…and unearth the shocking secret of Night Watch.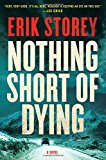 Nothing Short of Dying: A Clyde Barr Novel

by Erik Storey.

Hardcover, 320 pages.
ISBN-10: 1501124145
Hailed by bestselling writer William Kent Krueger as "the year's best thriller debut," this furiously paced ride into harm's way features a drifter with lethal skills, whose mission to rescue his abducted sister pits him against a ruthless meth kingpin and his army of killers.

Sixteen years. That's how long Clyde Barr has been away from Colorado's thick forests, alpine deserts, and craggy peaks, running from a past filled with haunting memories. But now he's back, having roamed across three continents as a hunter, adventurer, soldier of fortune, and most recently, unjustly imprisoned convict. And once again, his past is reaching out to claim him.

By the light of a flickering campfire, Clyde receives a frantic phone call from his sister Jen. No sooner has she pleaded with him to come rescue her than the line goes dead. Clyde doesn't know how much time he has, or where Jen is located, or even who has her. All he knows is that nothing short of dying will stop him from saving her.

Joining Clyde in his against-all-odds quest is a young woman named Allie whose motivations for running this gauntlet are fascinatingly complex. As the duo races against the clock, it is Allie who gets Clyde to see what he has become and what he can still be.

Vivid with the hues and scents of Colorado's backcountry, and thought-provoking in its exploration of how past, present, and future collide to test resolve, Nothing Short of Dying is, above all, a propulsive, action-driven race against the clock.
The Runaway Wife: A Novel

by Elizabeth Birkelund.

Paperback, 256 pages.
ISBN-10: 0062431757
"Where'd You Go, Bernadette? meets Eat, Pray, Love." —The Skimm
Three beautiful French sisters entrust an American hiker with the mission of rescuing their mother high in the Alps. 
But what if she doesn't want to be found?
Recently fired from his high-power finance job and dumped by his fiancée, Jim Olsen has come to the Swiss Alps to clear his head. At the charming Cabane des Audannes, he meets Clio, Thalia and Helene Castellane, who are on a quest of their own: their mother, Calliope, has fled to these mountains to escape her philandering politician husband's most recent scandal. As snow threatens to descend upon the Alps, the women have come to bring their mother home.
But the sisters are at the point of surrender; it is time for them to return to Paris. Buoyed by wine and inspired by their beauty, Jim impetuously volunteers to assume their search, but soon realizes that he is in over his head. The Alps are filled with beauty and danger, not the least of which is Calliope's desire to stay hidden. And all the while Jim finds himself haunted by the memory of her daughters and conflicted in his desire for them.
The Runaway Wife is a story of adventure, survival, and romance—and of a man's discovery of a world outside his conventional life and a new vision of himself within it.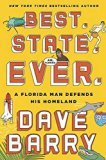 Best. State. Ever.: A Florida Man Defends His Homeland

by Dave Barry.

Hardcover, 240 pages.
ISBN-10: 1101982608
A brilliantly funny exploration of the Sunshine State from the man who knows it best: Pulitzer Prize winner and New York Times–bestselling author Dave Barry.
 
We never know what will happen next in Florida. We know only that, any minute now, something will.
Every few months, Dave Barry gets a call from some media person wanting to know, "What the hell is wrong with Florida?" Somehow, the state's acquired an image as a subtropical festival of stupid, and as a loyal Floridian, Dave begs to differ. Sure, there was the 2000 election. And people seem to take their pants off for no good reason. And it has flying insects the size of LeBron James. But it is a great state, and Dave is going to tell you why. Join him as he celebrates Florida from Key West at the bottom to whatever it is that's at the top, from the Sunshine State's earliest history to the fun-fair of weirdness that it is today.
 
It's the most hilarious book yet from "the funniest damn writer in the whole country" (Carl Hiaasen, and he should know). By the end, you'll have to admit that whatever else you might think about Florida—you can never say it's boring.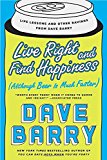 Live Right and Find Happiness (Although Beer is Much Faster): Life Lessons and Other Ravings from Dave Barry

by Dave Barry.

Paperback, 240 pages.
ISBN-10: 0425280144
Now in paperback from the Pulitzer Prize winner, the hilarious New York Times–bestselling exploration of what generations can teach one another—or not.
 
During the course of his life, Dave Barry has learned much of wisdom, and he is eager to pass it on. Among other brilliant, brand-new pieces, Dave shares home truths with his new grandson and his daughter Sophie; explores the hometown of his youth, where all the parents seemed to be having un-Mad Men–like fun; and dives into firsthand accounts of the soccer craziness of Brazil and the just plain crazy craziness of Vladimir Putin's Russia.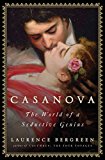 Casanova: The World of a Seductive Genius

by Laurence Bergreen.

Hardcover, 544 pages.
ISBN-10: 1476716498
The definitive biography of the impoverished child, abandoned by his parents, who became the famous writer, notorious libertine, and self-invented genius whose name still resonates today: Giacomo Casanova.

Today, "Casanova" is a synonym for "great lover," yet the real story of this remarkable figure is little known. Giacomo Casanova was raised by his maternal grandmother, an illiterate peasant. His birthplace, Venice, was a republic in decline, reputedly the most debauched city in Europe. Casanova would add to the republic's reputation. Over the course of his lifetime, he claimed to have seduced more than 100 women, among them married women, young women in convents, girls just barely in their teens, and in one notorious instance, his own illegitimate daughter.

Casanova came of age in a Venice filled with spies and informers. Naturally brilliant, he was intellectually curious and read forbidden books, for which he was jailed. He staged a dramatic escape from Venice's notorious prison, the only person known to have done so. He then fled to France, where he invented the national lottery that still exists to this day. But, intemperate by nature, he made enemies at the French court. He crisscrossed Europe, landing for a while in St. Petersburg, where he was admitted to the court of Catherine the Great. He corresponded with Voltaire and met Mozart and Lorenzo da Ponte—assisting them as they composed the timeless opera Don Giovanni. And he wrote what many consider the greatest memoir of the era, the 12-volume Story of My Life.

A figure straight out of a Henry Fielding novel: erotic, brilliant, impulsive, and desperate for recognition, Casanova was a self-destructive genius. This witty, roisterous biography exposes his astonishing life in rich, intimate detail. At the same time, it is a dazzling portrait of eighteenth-century Europe from serving girls to kings and courtiers. Esteemed biographer Laurence Bergreen brings a sensual world vividly alive in this irresistible book.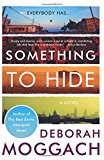 Something to Hide: A Novel

by Deborah Moggach.

Paperback, 336 pages.
ISBN-10: 0062427334
"Classic Moggach: readable, memorable . . . an unashamedly colorful journey across continents, with clothes, food, landscapes brought joyously to life." —The Times (London)
"Nobody in the world knows our secret . . . that I've ruined Bev's life, and she's ruined mine."
Petra's romantic life has always been a car crash, and even in her sixties she's still getting it disastrously wrong. And then she falls in love with Jeremy, an old friend visiting from abroad. There's just one catch: Jeremy is married to her best friend, Bev.
Meanwhile, on opposite sides of the world, two other women are also struggling with the weight of betrayal: Lorrie, a Texan, is about to embark on the biggest deception of her life, and in China, Li Jing is trying to understand exactly what it is her husband does on his business trips.
It turns out that no matter where you are in the world or how well you think you know the one you love, everyone has secrets.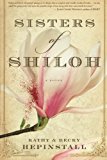 Sisters of Shiloh

by Kathy Hepinstall.

Paperback, 256 pages.
ISBN-10: 054470519X
Pulpwood Queen Bonus Book of the Year
 
"Kathy and Becky Hepinstall plunge us so deeply into a complete and vividly rendered world. . . We can smell the gun powder and taste the metallic tinge of fear along with their remarkable heroines." — Janis Cooke Newman, author of Mary

"[The Hepinstalls] present lucky readers with a tale of love and hate, vengeance and devotion, and the darkest secrets imaginable. Highly recommended for all." —Historical Novels Review
 
Before joining the Confederate Army, brothers Joseph and Thomas were actually sisters, Josephine and Libby. But that bloodiest battle, Antietam, leaves Libby widowed. She vows vengeance, dons her husband Arden's clothes, and sneaks off to enlist with the Stonewall Brigade, swearing to kill one Yankee for every year of her husband's too-short life. Desperate to protect her grief-crazed sister, Josephine insists on joining her. Surrounded by flying bullets, deprivation, and illness, the sisters are found by other dangers: Libby hurtles toward madness, haunted and urged on by her husband's ghost, while Josephine falls in love with a fellow soldier. She lives in fear both of revealing their disguise and of losing her first love before she can make her heart known to him.

In Sisters of Shiloh, best-selling novelist Kathy Hepinstall joins with her sister Becky to show readers the hopes of love and war, the impossible-to-sever bonds of sisterhood, and how what matters most can both hurt and heal.
 
"Sisters of Shiloh is a refreshing take on the Civil War, the bonds of sisterhood, and the bondage of love . . . Be prepared to be parked in a chair all day!" —The Christian Manifesto
 
"A fascinating glimpse into Civil War life from an unconventional perspective." —Kirkus Reviews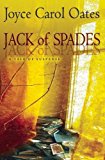 Jack of Spades: A Tale of Suspense

by Joyce Carol Oates.

Paperback, 240 pages.
ISBN-10: 0802125050
From Joyce Carol Oates, an exquisite, psychologically complex thriller about opposing forces within the mind of one ambitious writer and the delicate line between genius and madness.

Andrew J. Rush has achieved the kind of critical and commercial success most authors only dream about: He has a top agent and publisher in New York, and his twenty-eight mystery novels have sold millions of copies. Only Stephen King, one of the few mystery writers whose fame exceeds his own, is capable of inspiring a twinge of envy in Rush. But Rush is hiding a dark secret. Under the pseudonym "Jack of Spades," he pens another string of novels—noir thrillers that are violent, lurid, masochistic. These are novels that the upstanding Rush wouldn't be caught reading, let alone writing. When his daughter comes across a Jack of Spades novel he has carelessly left out, she picks it up and begins to ask questions. Meanwhile, Rush receives a court summons in the mail explaining that a local woman has accused him of plagiarizing her own self-published fiction. Before long, Rush's reputation, career, and family life all come under threat—and in his mind he begins to hear the taunting voice of the Jack of Spades.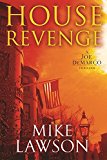 House Revenge: A Joe DeMarco Thriller (Joe DeMarco Thrillers (Hardcover))

by Mike Lawson.

Hardcover, 288 pages.
ISBN-10: 0802125239
In House Revenge, Congressional fixer Joe DeMarco is dispatched to his boss Congressman John Mahoney's hometown of Boston. Mahoney wants him to help Elinore Dobbs, an elderly woman fighting against a real estate developer intent on tearing down her apartment building for a massive new development. Mahoney is just in it for the free press until Sean Callahan, the developer, disrespects him and even worse, Elinore suffers a horrible ?accident," likely at the hands of two thugs on Callahan's payroll. Now Mahoney and DeMarco are out for revenge. DeMarco tries to dig up dirt through Callahan's former mentor, and one of his ex-wives. But it's only when DeMarco gets a tip on the likely illegal source of some of Callahan's financing that things get deadly.

A fast-paced adventure into the cutthroat world behind the wrecking ball, House Revenge is another gripping tale of collusion and corruption from a beloved political thriller writer.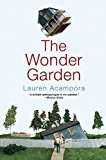 The Wonder Garden

by Lauren Acampora.

Paperback, 368 pages.
ISBN-10: 080212481X
An Indie Next Pick
An Amazon Debut Spotlight
A Barnes & Noble Discover Great New Writers selection

?Like Wharton, Acampora seems to understand fiction as a kind of elegant design. As characters reappear in one story after another, Acampora reveals herself as a careful architect... lovely prose... often a single sentence twists sinuously, charged with positive and negative electricity."?New York Times Book Review

Launched by four starred prepubs and a full page New York Times book review, The Wonder Garden marks Lauren Acampora's rarely seen, sensational entrance into the literary world. With enchanting realism, these linked stories bring to the page the myriad lives of a suburban town, and reveal at each turn the unseen battles we play out behind drawn blinds, the creeping truths from which we distract ourselves, and the massive dreams we haul quietly with us and hold close. Deliciously creepy and masterfully complex The Wonder Garden heralds the arrival of a phenomenal new talent in American fiction.

?Acampora's stories show that an Anna Karenina principle still applies: All happy families are the same; the unhappy ones are miserable in their own special way. Or to boil it down to modern terms: mo' money, mo' problems ? Add well-drawn characters, interesting plots, cultural zingers and dead-on critiques of consumerism and Acampora delivers a page-turner."?Dallas Morning News

?A smashing debut, with range, subtlety and bite. Reading Acampora, we're in Cheever country, with hints of Flannery O'Connor."?Jane Ciabattari, BBC.com

?In 13 sharply drawn linked stories, Acampora reveals the complexities beneath the polish and privilege of a prosperous Connecticut town."?People