Wesley the Owl
: The Remarkable Love Story of an Owl and His Girl
by Stacey O'Brien
Hardcover: Aug 2008
Paperback: Jun 2009
When biologist Stacey O'Brien first met a four-day-old baby barn owl with nerve damage in one wing, she knew he had no hope of surviving on his own in the wild, so gave him a permanent home living with her. This is the funny, poignant story of their...
Support BookBrowse
Become a Member and discover books that entertain, engage & enlighten!
Editor's Choice
Priestdaddy
by Patricia Lockwood Patricia Lockwood is a poet and the daughter of Greg Lockwood, a Catholic priest. While Catholic ...

Before We Sleep
by Jeffrey Lent Katey Snow, aged seventeen, leaves home one night. "There was a void within her and one that could ...

The Hermit
by Thomas Rydahl If you can be comfortable with Scandinavian noir played out against the sun-drenched backdrop of ...
Win this book!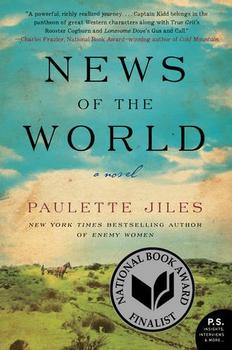 News of the World
A brilliant work of historical fiction that explores the boundaries of family, responsibility, honor, and trust.
First Impressions
The Essex Serpent
by Sarah Perry

Costa Book Award Finalist and the Waterstones (UK) Book of the Year 2016
Reader Reviews
Word Play
Solve this clue:
and be entered to win..
Book Discussion
Books that


entertain,
engage
& enlighten


Visitors can view some of BookBrowse for free. Full access is for members only.