Hello

Our first recommendation tells the stories of The Radium Girls, employed in the early part of the 20th century to paint luminescent numbers on watch faces using the newly invented paint made from highly toxic radium. While books have been written previously about the dreadful culpability of the companies involved, who outright lied about the dangers of radium, the story of the women themselves, some as young as 14, have never been told before.

Then we move on to Kintu, a generational saga set in Uganda (which our reviewer describes as her favorite book of the year so far - perhaps of the past several years) which explores many topics affecting Ugandan society today - including attitudes towards AIDS, the educational system, and the long-lasting impacts of colonialism.

After going "beyond the book" to provide you with short histories of Uganda and radium, we round things up with an interview with Elizabeth Church about her novel, The Atomic Weight of Love, and the opportunity to win copies of News of the World by Paulette Jiles, in which we meet Captain Jefferson Kyle Kidd who is about to embark on a journey that will test the boundaries of family, responsibility, honor, and trust.

Your Editor, Davina
Editor's Choice
The Radium Girls by Kate Moore
Hardcover (May 2017), 496 pages.
Publisher: Sourcebooks.
BookBrowse Rating: 5/5, Critics' Consensus: 4.3/5
Buy at
Amazon
|
B&N
|
Indie

In 1915, Austrian-born Sabin von Sochocky developed a luminescent paint that used radium to create a glow-in-the-dark effect. Realizing the material could be used for many purposes, he opened the U.S. Radium Corporation in Orange, New Jersey, to produce the substance, and as a side business, contracted with manufacturers to create watch faces that could be read in the dark.
He hired girls - some as young as 14 - to work in the shop as dial painters. Using fine brushes, the girls delicately traced the timepiece's hands and numerals with the glowing substance. The instruments weren't quite sharp enough to achieve the precision required, so they employed a technique called "lip pointing," whereby the brush was put in the mouth before being dipped in the radium: "lip-dip-paint"...and repeat. Over time, ingesting the radioactive substance caused radium poisoning, and many of the girls in Orange - as well as those at a competing business, the Radium Dial Company in Ottawa, Illinois - died horrible deaths. The companies involved knew about the dangers of radium, but denied culpability, in some cases outright lying about the harm they caused.
While the lawsuits brought against these two corporations have been widely documented, the stories of the individual women have never been central to the narrative.... Beyond the focus on the individuals impacted by blatant corporate negligence, the author creates tension as the girls become ill. No one in Orange or in Ottawa had seen radium poisoning before, and doctors and dentists were puzzled by what could cause teeth to fall out with the sockets failing to heal, jaws to disintegrate, and joints to freeze in place. Indeed, as the girls died, their death certificates inaccurately listed causes such as syphilis and diphtheria. Although readers know that radium was the culprit, Moore still keeps the suspense high; I felt like I was reading a "whodunnit" in which I knew who the murderer was but had to wait for the lead detective to figure it out...
This exceptionally compelling book should appeal to a wide audience, including those who typically don't read non-fiction. I can't recommend
The Radium Girls
highly enough. ...
continued
Full access to our reviews & beyond the book articles are for
members
only. But there are always four free
Editor's Choice reviews
and beyond the book articles available.
Every time we review a book we also explore a related topic. Here is a recent "beyond the book" article for The Radium Girls by Kate Moore:
The high demand for radium is at the heart of Kate Moore's book,
The Radium Girls
. Radium is a naturally occurring element, most of which is found in uranium ore; it makes up approximately 1 part per trillion of the Earth's crust, making it our planet's 84th most common component. One ton of uranium ore can contain as little as 0.14 grams of radium. We're constantly exposed to this highly toxic metal, but in very minute amounts.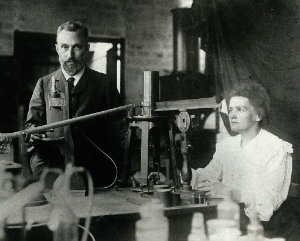 The element was discovered by Pierre and Marie Curie in December 1898. While working to separate uranium from a mineral called pitchblende, Marie discovered that the material remaining after the uranium was removed was actually more radioactive than the chemical they originally sought. After refining tons of pitchblende (now known as uranite), Curie narrowed down the source of the radiation to two previously unknown elements: polonium and radium. Curie further discovered that radium - a soft, shiny, silvery metal - was about 3 million times more radioactive than uranium. The radium sample, which was identified as a new element, emitted a faint blue glow in the dark. ...
continued
Read in full
|
More about this book
Editor's Choice
Kintu by Jennifer Nansubuga Makumbi
Paperback (May 2017), 446 pages.
Publisher: Transit Books.
BookBrowse Rating: 5/5, Critics' Consensus: 4.8/5
Buy at
Amazon
|
B&N
|
Indie
Kintu
refers to Kintu Kidda, the governor of Buddu Province in the kingdom of Buganda, which is now part of Uganda. Jennifer Nansubuga Makumbi's Commonwealth Prize-winning novel opens in 1754. On his way with his men to pay homage to the new king, Kintu overreacts to a minor situation with anger and violence, resulting in the accidental death of one of his fellow travelers. His further actions on returning home compound his sin and lead to a curse - one that results in his family's ruin and haunts descendants through succeeding generations. As the novel tells the story of Kintu Kidda and his extended family, it vividly relays Uganda's past and culture...
Makumbi's writing is nothing short of brilliant, often bordering on poetic, as she writes about Ugandan culture, past and present. More than just descriptions, she captures a depth of emotion that few can adequately express in writing; what each of her characters endure is palpable.... she resists the current literary tendency toward very short chapters that bounce between characters. Instead she allows readers to become fully immersed in each person's story, completely getting to know all aspects of their personality and motivations before moving on to the next individual's circumstances. It's honestly some of the best characterization I've ever read. The reader comes to know the characters; they become real. You may not always like them, but you do understand why they behave as they do...
Kintu
is by far my favorite book of the year (perhaps of the past several), and it will undoubtedly appeal to fiction lovers who enjoy immersing themselves in other cultures. I found this debut absolutely unforgettable and am sure it will win Makumbi many fans. Highly recommended! ...
continued
Full access to our reviews & beyond the book articles are for
members
only. But there are always four free
Editor's Choice reviews
and beyond the book articles available.
Beyond the Book: A Brief History of Uganda
Every time we review a book we also explore a related topic. Here is a recent "beyond the book" article for Kintu by Jennifer Nansubuga Makumbi
Kintu
is set in Uganda, a landlocked country in central Africa bordered by South Sudan, Kenya, Tanzania, Rwanda and The Democratic Republic of Congo. It is home to approximately 39 million individuals.
Human activity in the region that is now Uganda dates back at least 50,000 years as evidenced by stone tools found in the area. Around 2000 years ago, it is thought that Bantu-speaking people started to settle the area bringing with them simple agriculture and use of metal tools. Etymologically speaking, Bantu simply means "people." The Bantu peoples most likely migrated from near modern-day Nigeria around 3,000 years ago eventually spreading across most of sub-Saharan Africa. Today there are over 300 ethnic groups in Africa who speak variations of Bantu.
In the 17th and 18th centuries the area was dominated by several clans, notably the Buganda, Bunyoro, Busago, Ankole and Toro. These families worked with Sudanese slave traders to enhance their wealth and prey upon their rival clans; the Buganda ultimately achieved supremacy and dominated the economy until the arrival of European colonizers in the late 19th century. In 1888 the Imperial British East Africa Company established a presence in the Buganda territorial province (with the permission of the local rulers) and in 1894 it was declared a British Protectorate ...
continued
Read in full
|
More about this book
| | | |
| --- | --- | --- |
| | | Elizabeth Church discusses how her family experience led her to write her debut novel, The Atomic Weight of Love. |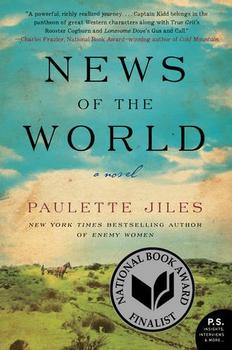 News of the World by Paulette Jiles






Hardcover & ebook 2016. Paperback Jun 2017
224 pages



Enter the Giveaway




BookBrowse members rated News of the World an average of 4.7 stars!


From the Jacket

It is 1870 and Captain Jefferson Kyle Kidd travels through northern Texas, giving live readings to paying audiences hungry for news of the world. An elderly widower who has lived through three wars and fought in two of them, the captain enjoys his rootless, solitary existence.

In Wichita Falls, he is offered a $50 gold piece to deliver a young orphan to her relatives in San Antonio. Four years earlier, a band of Kiowa raiders killed Johanna's parents and sister; sparing the little girl, they raised her as one of their own. Recently rescued by the U.S. army, the ten-year-old has once again been torn away from the only home she knows.

Their 400-mile journey south through unsettled territory and unforgiving terrain proves difficult and at times dangerous. Johanna has forgotten the English language, tries to escape at every opportunity, throws away her shoes, and refuses to act "civilized." Yet as the miles pass, the two lonely survivors tentatively begin to trust each other, forging a bond that marks the difference between life and death in this treacherous land.

Arriving in San Antonio, the reunion is neither happy nor welcome. The captain must hand Johanna over to an aunt and uncle she does not remember - strangers who regard her as an unwanted burden. A respectable man, Captain Kidd is faced with a terrible choice: abandon the girl to her fate or become - in the eyes of the law - a kidnapper himself. Exquisitely rendered and morally complex, News of the World is a brilliant work of historical fiction that explores the boundaries of family, responsibility, honor, and trust.



We have 5 paperback copies of News of The World by Paulette Jiles to give away. This offer is open to residents of the USA only, except for BookBrowse members who are welcome to enter wherever they live.

Enter the giveaway | Past Winners | Excerpt | Reading guide

About BookBrowse

Get to know BookBrowse through our 4-part introductory series:

BookBrowse Highlights
is just one of BookBrowse's free newsletters. You might also enjoy our others, which include
Publishing This Week
and
Book Club News
.

Update your newsletter settings here
Your guide toexceptional books
BookBrowse seeks out and recommends books that we believe to be best in class. Books that will whisk you to faraway places and times, that will expand your mind and challenge you -- the kinds of books you just can't wait to tell your friends about.