Hello

We've just started a new Book Club discussion of Elizabeth Church's
The Atomic Weight of Love
. If you've read it, please join us! If you have not, I encourage you to browse an excerpt, and read our review and "beyond the book" article.
Next, our members share their views of three just published books, two fiction and one nonfiction:
Our Short History
by Lauren Grodstein,
Lola
by Melissa Scrivner Love, and
Mercies in Disguise
by Gina Kolata.
Then we end with an interview with Shanthi Sekaran, author of
Lucky Boy
, and a round-up of recent book related
news stories
.
Enjoy!
Your Editor, Davina
The Atomic Weight of Love by Elizabeth Church

Published Mar 2017, 320 pages



In the spirit of

The Aviator's Wife

and

Loving Frank,

this resonant debut spans the years from World War II through the Vietnam War to tell the story of a woman whose scientific ambition is caught up in her relationships with two very different men.

"Church has a deep understanding of how marriage works: its constant sacrifices and compromises, and how much we can define ourselves by and depend on our partners. Passages recounting the everyday dilemmas and conversations of a marriage feel very true to life. This would make an excellent book club read. There is so much to think about and discuss - especially relationships, women's rights, and moral decisions."




- Rebecca Foster, BookBrowse

More about this book

|

Join the discussion
Upcoming Discussions
Each month we give away books to U.S. resident
members
to read and review (or discuss). Members who choose to participate receive a free book about every three months. Here are their opinions on one recent release.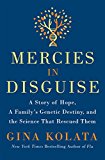 Mercies in Disguise: A Story of Hope, a Family's Genetic Destiny, and the Science That Rescued Them by Gina Kolata
Publisher: St. Martin's Press
Publication Date: Mar 2017
Memoir, 272 pages

Number of reader reviews: 38
Readers' consensus: 4.7/5.0

Members Say
"An expertly-crafted, deeply affecting, empathetic, evenhanded, science-driven and family-driven masterwork that should be on the shortlist for the Pulitzer Prize. It will almost certainly make one clamor for even more books by Gina Kolata, and more books just like it, elevating the importance of science to all aspects of our lives, and how it can also save our lives, or at least give us hope where there once was none." - Rory A. (Henderson, NV)
"Loved
Henrietta Lacks
. Loved
Mercies In Disguise
. Left me with the question ... what would I do?" - Janice C. (Hayward, CA)
"Once I started reading this profoundly compelling book I could not put the book down.... Keep a box of tissues handy this book will touch your heart, mind and spirit." - Beverly J. (Hoover, AL)
"
Mercies In Disguise
presents a real life crisis situation that reads like a suspense novel... I highly recommend this book for the use of book club discussions, as it presents a timely and real world dilemma for discussion." - Emily C. (Naples, FL)


More about this book
|
Read all the reviews
Buy at
Amazon
|
B&N
|
Indie
First Impressions: Members Recommend
Publisher: Algonquin Books
Publication Date: Mar 2017
Novels, 352 pages

Number of reader reviews: 21
Readers' consensus: 4.1/5.0
Members Say
"Grodstein has accomplished something that is nearly impossible--she has written a heart-breaking novel about love, family, acceptance, and what it means to live which is also laugh out loud funny." - Eileen C. (New York, NY)
"I loved this book. I read it in two days. Lauren Grodstein has done an amazing job of taking you on the awful journey of battling cancer, while trying to work and be a mom. This story is told through journal entries to Karen's six-year-old son. I was right there with her. The highs, the lows, the strength, weakness, impossible pain and great love. And all those decisions she was forced to face... Read it. You will cry, laugh and be emotionally expanded by the end." - Beth M. (New York, NY)
"I really enjoy this story and I plan to use it as one of my book group selections. " - Lenora F Antioch, IL
"Sometimes a book grabs you and won't let go. "Our Short History", is one of those. Poignant and heart wrenching and full of joy and life, it held me enthralled from beginning to end." - Shelley C. (Eastport, NY)


More about this book
|
Read all the reviews
Buy at
Amazon
|
B&N
|
Indie
First Impressions: Members Recommend
Publisher: Crown
Publication Date: Mar 2017
Thrillers, 336 pages

Number of reader reviews: 16
Readers' consensus: 4.2/5.0
Members Say
"Readers who like intricately plotted crime novels and complex characters will love this one. Lola, the protagonist, can kill without remorse. She views the world from near the bottom of society. Her ambition is to be the boss of her drug dealing gang. Although she is ruthless and ambitious, she becomes a sympathetic character, and the reader begins to understand her world. As the plot unfolds, questions about the effects of environment on character, the nature of prejudice, the role of women in society, sexism, justice, and social structures in general are explored. This is a thought provoking and riveting novel that members of book clubs will enjoy discussing . It is not a book for the faint-hearted." - Marie D. (Coxsackie, NY)
"The mystery itself was first rate and complex enough to make it difficult for me to put down. This is the author's first novel and I'm more than ready to see the next. Hopefully, there will be one soon. I will strongly recommend this book to others." - Laure R. (Fresno, CA)
"Melissa Scrivener Love has introduced a new heroine to cheer for. Lola is a total badass, but also whipsmart, and with an amazing head on her shoulders. I was torn between reading the book in one sitting and savoring it over a few days. Savoring won - now I just hope the author follows up with a second book." - Julie G. (West Hartford, CT)


More about this book
|
Read all the reviews
Buy at
Amazon
|
B&N
|
Indie
| | | |
| --- | --- | --- |
| | | Author Shanthi Sekaran discusses her novel Lucky Boy and what moved her to shed light on the immigrant experiences across the socio-economic divide: |

What inspired you to write this novel and what is the significance of its title?

In 2011, I heard a story on NPR about a Guatemalan mother who was fighting to get her child back from the American couple adopting him. I sat riveted for the few minutes that the story ran, but of course, it left many questions unanswered. Afterward, I couldn't get the story out of my head. I wanted to get inside it and know the thoughts and motivations of everyone involved. I'm a fiction writer, not an investigative journalist, and the best way I know to get inside a story is to write it. The book that resulted takes a very different path from the initial news item, but writing it helped explore some of those early questions. Lucky Boy was perhaps the tenth version of the novel's title. The initial impulse is to see it as an ironic title, but I don't see it that way. I see it as a true statement. Ignacio is a lucky boy. He is wanted and loved.

Lucky Boy focuses on the very different immigrant experiences of two mothers. What made you decide to write about immigration?

I've always written about immigration of one sort or another. Even my mystical, fantastical stories have immigrant figures in them. The first novel I fell in love with, Wuthering Heights, is about an immigrant. Immigration is the ultimate story-it encompasses every basic plot type: rags to riches, overcoming the monster, the quest, rebirth, comedy, tragedy, voyage and return. Migration is a process of transcendence that reaches into so many aspects of our lives; it's not always about passports and visas. Motherhood is a form of migration. So is love, and so is death.

continued...




Mar 21 2017
The crime writer Colin Dexter, creator of the much-loved character Inspector Morse, has died at the age of 86. (more)

Mar 17 2017
The New York Times reports on a class-action lawsuit about overtime pay for truck drivers that hinges on perhaps the most polarizing punctuation mark - the Oxford comma. (more)

Mar 17 2017
The winners of the 2016 National Book Critics Circle Awards were announced last night. Fiction and Nonfiction winners respectively are LaRose by Louise Erdrich
and Evicted: Poverty and Profit in the American City by Matthew Desmond (more)

Mar 17 2017
Libyan author Hisham Matar offers an inspiring ode to the power of books in The New York Times: "Whenever I was encouraged by my elders to pick up a book, I was often told, 'Read so as to know the world.' And it is true; books have invited me into different countries, states of mind, social conditions and historical epochs; they have offered me a place at the most unusual gatherings. (more)

Mar 16 2017
Reading Without Walls Month makes its debut this April. This program, an annual celebration of reading and diversity, is inspired by the platform of the National Ambassador for Young People's Literature, Gene Luen Yang. The National Ambassador program is a partnership between the Children's Book Council, Every Child a Reader, and the Library of Congress. (more)

Mar 15 2017
Canadian author Richard Wagamese, one of the leading indigenous writers in North America, died March 10. He was 61. (more)

Mar 13 2017
Amy Krouse Rosenthal, a prolific children's book author, memoirist and public speaker who, dying of cancer, found an extraordinarily large readership this month with a column in The New York Times titled "You May Want to Marry My Husband," died on Monday at her home in Chicago. (more)

Mar 13 2017
Robert James Waller, whose gauzy, romantic novel "The Bridges of Madison County" became a runaway best seller on its publication in 1992 and the basis of a popular film, died on Friday at his home in Fredericksburg, Tex. He was 77. (more)

Mar 13 2017
German media group Bertelsmann is looking to raise its stake in its Random House joint venture with Pearson from 53 percent to between 70 and 75 percent and will find a long-term partner if necessary for the rest, its chief executive told Der Spiegel. The news comes after Britain's Pearson (which currently owns 47 percent of Random House) said in January it may seek to sell its stake after a massive profit warning. (more)

Mar 13 2017
The British Library published an article last week suggesting that Jane Austen, who died in 1817 aged 41 in 1817, was killed by arsenic poisoning. Previous causes of her death have thought to have been either cancer or an adrenal disorder but an article published on the British Library's website proposes arsenic as a credible cause - not due to foul play but likely from a tainted water supply or a medicinal mix-up. (more)


About BookBrowse


Get to know BookBrowse through our 4-part introductory series:


Your guide toexceptional books

BookBrowse seeks out and recommends books that we believe to be best in class. Books that will whisk you to faraway places and times, that will expand your mind and challenge you -- the kinds of books you just can't wait to tell your friends about.

Modal popup -