Hello Davina

Armchair travelers rejoice!
We start with
The Scribe of Siena
, a time-traveling love story set in 14th century Italy.
Next we're off to Africa with
Homegoing
, a generational epic that opens in 18th century Ghana;
What It Means When a Man Falls From the Sky
, a short story collection set primarily in Nigeria; and an interview with Maxine Beneba Clarke (born in Australia to a Jamaican father and Guyanese mother) about her first book,
Foreign Soil
.
Then we return to Europe to uncover a mystery lurking far beneath the streets of Norwich, England in Elly Griffiths'
The Chalk Pit
(which you can enter to win). Lastly, we bring you some recent book related
news stories
and ask "
who's minding the store?
"
Your Editor, Davina
PS. I recommend last week's
New York Times article on book club dynamics
(and not just because it mentions BookBrowse
)
First Impressions: Members Recommend
Each month we give away books to U.S. resident
members
to read and review (or discuss). Members who choose to participate receive a free book about every three months. Here are their opinions on one recent release.
Publisher: Touchstone
Publication Date: May 2017
Historical Fiction, 464 pages

Number of reader reviews: 14
Readers' consensus: 4.4/5.0

Members Say
"A 20th century neurosurgeon is transported to Siena, Italy, in 1346 AD where she becomes a scribe and falls in love. That is the short story of this vastly absorbing and intriguing novel... it's a winner!" - Becky H. (Chicago, IL)
"Melodie Winawer introduced me to a subject of which I knew nothing, the plague in 1300 Italy. She used time travel so effectively to accomplish this, that I overcame my dislike of this method. Also, it is so very apparent that she deeply researched the Italy of current and fourteenth century times, the Italian language, and fresco painting. I eagerly await her next book!" - Nancy, California
"This is a thoroughly enjoyable time-travel, historical fiction read. It's packed with science, history, art, mystery, love. Smart, strong female characters abound, in all the time periods... An excellent debut!" - Madeline M (Florida)
"I recommend this to anyone who likes a good historical mystery combined with a love story that literally transcends the centuries." - Estella P. (New York, NY)


More about this book
|
Read all the reviews
Buy at
Amazon
|
B&N
|
Indie
Editor's Choice: New in Paperback
Homegoing by Yaa Gyasi
Paperback (May 2017), 320 pages.
Publisher: Vintage.
BookBrowse Rating: 5/5, Critics' Consensus: 4.5/5
Buy at
Amazon
|
B&N
|
Indie

Review by
Poornima Apte


Winner of BookBrowse's 2016 Debut Novel Award


It's all very well to challenge people to be the masters of their own destiny, but when you're a woman in 18th-century Ghana, your birth and beauty and tribe pretty much proscribe you from indulging in such flights of fantasy. So it is that just as the young and stunning Effia Otcher from the Fanteland region is promised in marriage to a white slave trader James Collins, a match that ensures the consolidation of her family's socioeconomic status, her half-sister Esi, belonging to another tribe, is swept up in the country's booming slave trade.
This roll of the dice, beyond either's control, will have the two siblings living their lives under entirely different circumstances and on two different continents. In a series of tightly knit chapters,
Homegoing
chronicles each sibling's descendants over seven generations as their paths diverge and interweave in surprising ways. Effia soaks in relative affluence and her immediate family members become key power brokers in the Gold Coast slave trade, even as later relatives want to have little to do with this stain of history. While bound in chains, Esi makes her way to the Deep South in America as a slave, a fate that will dog her family, shaping it with centuries of dark history.
Yaa Gyasi, herself a Ghanaian native brought up in Alabama, knows a thing or two about how the past casts a looming shadow over the present. "This is the problem of history," she writes. "We cannot know that which we were not there to see and hear and experience for ourselves. We must rely upon the words of others...whose story do we believe?" ...
continued
Full access to our reviews & beyond the book articles are for
members
only. But there are always four free
Editor's Choice reviews
and beyond the book articles available.
Editor's Choice: Hardcover & ebook
What It Means When a Man Falls from the Sky by Lesley Nneka Arimah
Hardcover (Apr 2017), 240 pages.
Publisher: Riverhead Books.
BookBrowse Rating: 5/5, Critics' Consensus: 5.0/5
Buy at
Amazon
|
B&N
|
Indie
Even if it might be unfair to the enormously talented Lesley Nneka Arimah to refer to another immensely gifted short story writer when reviewing her work, I couldn't help myself - because it was Jhumpa Lahiri that I was reminded of after reading the absolutely spellbinding first story, "The Future Looks Good," in Arimah's debut.
Just like Lahiri, Arimah knows how to pack a jaw-dropping punch in the very last sentence of a story. There are brilliantly placed nuggets throughout this tale about a young Nigerian woman, Ezinma, who carries the weight of generations past on her shoulders, and whose life narrative is Exhibit A in how difficult it is for many of us, especially the poor, to break free from the circumstances and class into which we are born...
continued
Full access to our reviews & beyond the book articles are for
members
only. But there are always four free
Editor's Choice reviews
and beyond the book articles available.
Author Interview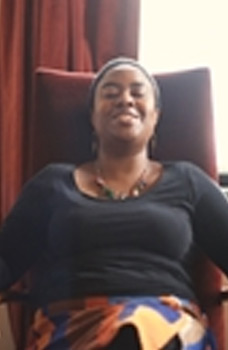 Memoirist and poet Maxine Beneba Clarke discusses her first book of short stories,
Foreign Soil, which swept the Australian book awards when first published in 2015, and is now available in the USA.


The stories are far ranging in time, place, and voice. They are stylistically bold, structurally innovative and brave in subject, confronting war, child soldiers, domestic abuse, gender identity, and political violence. Clarke writes with the lyricism of a poet and the starkness of a writer of Witness. Her characters come from Australia, Sudan, Sri Lanka, the United Kingdom, Jamaica, China, and the United States, and each one feels fully fleshed, shaped by his or her native culture. They exist in the margins between belonging and "otherness," and Clarke catches them in moments of crises that bring our common humanity to the forefront.

News
May 15 2017
Margarita Engle has been named the Young People's Poet Laureate by the Poetry Foundation. Awarded every two years, the $25,000 laureate title is given to a living writer in recognition of a career devoted to writing exceptional poetry for young readers.
(more)
May 15 2017
Suite Française
, adapted from the bestselling book by Irene Nemirovsky will premiere on the Lifetime network May 22.
(more)
May 13 2017
Represented by the Pacific Legal Foundation, Book Passage--with stores in Corte Madera, Sausalito and San Francisco, Calif.--and co-owner Bill Petrocelli have filed suit against a state law that, the plaintiffs say, "will make it extremely risky, if not impossible, for stores to sell autographed books or host author events."
(more)
May 10 2017
Several publishers and authors organizations have officially joined the many book world people criticizing Amazon's new policy allowing third-party booksellers to "bid" for the primary spot in buy buttons.
(more)
Apr 29 2017
Once every 10 years Granta issues a special issue focused on new American fiction, "showcasing the young novelists deemed to be the best of their generation--writers of remarkable achievement and promise, still in their twenties and thirties."
(more)
Win This Book
The Chalk Pit by Elly Griffiths
Published May 2017
368 pages


Enter the Giveaway
From the Jacket
In the ninth Ruth Galloway mystery, Ruth and Nelson investigate a string of murders and disappearances deep within the abandoned tunnels hidden far beneath the streets of Norwich, England.
Reviews
"Starred Review. Griffith's ninth is complex and character-driven, providing an excellent mystery whose very last sentence will leave you yearning for the next installment." - Kirkus
"Engrossing...[Griffiths's] portrayal of issues surrounding homelessness is compassionate and nuanced." - Publishers Weekly
"Highly recommended for fans of articulate and gripping narratives with a hearty mix of police procedural, historical detail, and academia. Featuring one the best ensemble casts in crime fiction today." - Booklist
We have 5 hardcover copies of
The Chalk Pit: A Ruth Galloway mystery
by Elly Griffiths to give away.
This offer is open to residents of the USA only, except for BookBrowse members who are welcome to enter wherever they live.
Enter the giveaway
Past Winners
Wordplay
Solve our fiendish Wordplay puzzle, and be entered to win the book of your choice!
This week's Wordplay
Solve this clue: "T W Don't M A R"
The answer to last Week's Wordplay: W's M T Store?


"
Who's Minding The Store?
"
As a literal expression it is safe to assume that the question, "who's minding the store?" asked of a retail establishment goes back a long way given that the use of the verb "to mind" in the context of "attend to" dates back to at least the sixteenth century. But it is less clear when the expression took on a figurative meaning of asking who is in charge of something other than an actual store.


The saying was popularized by the 1963 comedy movie Who's Minding the Store? starring Jerry Lewis but was certainly in use before than. For example it can be found in Joseph Heller's 1961 classic Catch-22:


He was wounded in the thigh, and when he recovered consciousness he found McWatt on both knees taking care of him. He was relieved, even though he still saw Aarfy's bloated cherub's face hanging down over McWatt's shoulder with placid interest. Yossarian smiled feebly at McWatt, feeling ill, and asked, "Who's minding the store?" McWatt gave no sign that he heard. With growing horror, Yossarian gathered in breath and repeated the words as loudly as he could.
About BookBrowse


Get to know BookBrowse through our 4-part introductory series:


Your guide toexceptional books

BookBrowse seeks out and recommends books that we believe to be best in class. Books that will whisk you to faraway places and times, that will expand your mind and challenge you -- the kinds of books you just can't wait to tell your friends about.

Modal popup -