Breaking news on authors, publishers, and book-related topics
BookBrowse Book News
Page 13 of 233
Jeff Bezos to have a bit part in new Star Trek movie
Jul 18 2016: Amazon founder Jeff Bezos has a bit part in the new "Star Trek Beyond" movie. Apparently security was tight on set for Bezos who arrived with a full contingent of security, and then waited patiently all day for crews to shoot the single tracking shot that includes his ...
USA bookstore sales up for the ninth month in a row
Jul 18 2016: May bookstore sales rose 3.1%, to $826 million, compared to May 2015, according to preliminary estimates from the Census Bureau. This marks the ninth month in a row that bookstore sales have risen - with an average growth for the year to date of 6.1%
British author Sally Beauman, author of "Destiny" and other novels, dies
Jul 16 2016: British author Sally Beauman died on July 7 aged 71. Writing in The Guardian, Lisa Appignanesi described Beauman as "a proud, loyal, fiercely private, beautiful and generous woman--at all ages. Her intelligence was incisive and broad. She could tell you everything, not ...
Dr Carla D. Hayden confirmed as 14th Librarian of Congress
Jul 14 2016: Dr Carla D. Hayden has been confirmed, 74-18, by the U.S. Senate as the 14th Librarian of Congress, for a renewable 10-year term. Hayden was the longtime CEO of the Enoch Pratt Free Library system in Baltimore and a former president of the American Library Association. ...
Book sales at brick and mortar bookstores rise 2% year on year
Jul 12 2016: Publishers' trade book sales (i.e. books for general readers) at physical retail stores in the USA rose for the second year in a row in 2015, climbing 1.8%, to $4.15 billion, according to the Association of American Publishers' StatShot Annual. Physical store sales ...
Jojo Moyes takes 3 of top 20 bestseller spots for first half of the year
Jul 11 2016: Nielsen BookScan's list of bestselling print books for the January–June period includes three editions of Jo-Jo Moyes' Me Before You. The book also came in at #2 on Amazon's Kindle bestseller list for approximately the same time period, beaten by The Girl in the Ice by ...
Elie Wiesel dies aged 87
Jul 02 2016: Elie Wiesel, Auschwitz survivor and author of more than 40 books has died aged 87 in New York, where he lived and had been a citizen since the 1960s.

Born in Romania in 1928, he was deported to Auschwitz in 1944. After the war he became famous for writing about his ...
Michael Herr, author of "Dispatches," dies aged 76
Jun 27 2016: Michael Herr, who wrote Dispatches, a glaringly intense, personal account of being a correspondent in Vietnam that is widely viewed as one of the most visceral and persuasive depictions of the unearthly experience of war, died last Thursday. He was 76.

The war in ...
Support BookBrowse
Become a Member and discover books that entertain, engage & enlighten!
Editor's Choice
Before We Sleep
by Jeffrey Lent Katey Snow, aged seventeen, leaves home one night. "There was a void within her and one that could ...

The Hermit
by Thomas Rydahl If you can be comfortable with Scandinavian noir played out against the sun-drenched backdrop of ...

The Radium Girls
by Kate Moore In 1915, Austrian-born Sabin von Sochocky developed a luminescent paint that used radium to create a...
Win this book!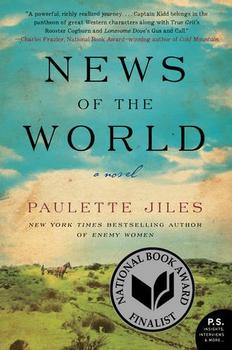 News of the World
A brilliant work of historical fiction that explores the boundaries of family, responsibility, honor, and trust.
First Impressions
The Weight of Ink
by Rachel Kadish

An intellectual, suspenseful, and entertaining page-turner.
Reader Reviews
Word Play
Solve this clue:
and be entered to win..
Book Discussion
Books that


entertain,
engage
& enlighten


Visitors can view some of BookBrowse for free. Full access is for members only.