Breaking news on authors, publishers, and book-related topics
BookBrowse Book News
Page 11 of 233
New Beatrix Potter tale published today
Sep 06 2016: A new Beatrix Potter tale was published today, two years after the manuscript was unearthed following a clue discovered by Jo Hanks, publisher at Penguin Random House Children's Books, in an out-of-print 1970s literary history of the author.

Hanks found a reference to...
Elechi Amadi dies aged 82
Aug 25 2016: Elechi Amadi, "one of the founding generation of African novelists in English," died June 29 aged 82. The Guardian reports that his work "was greatly admired by his fellow writers in Nigeria, and he had a large readership throughout Africa, but undeservedly he did not ...
Kickstarter hits $100m mark on publishing projects
Aug 22 2016: Kickstarter, the crowdfunding venture that allows individuals to donate money to support a variety of projects, marked a milestone last week, recording more than $100 million in pledges to general-publishing projects since it launched in 2009.
Publishers express frustration at sacking of B&N's CEO
Aug 22 2016: Publishers have been expressing their frustration in the wake of the sudden and unexpected dismissal of Barnes & Noble CEO Ron Boire last week, just a year after he took over as head of the largest bricks-and-mortar bookstore chain in the USA. Boire, formerly head of ...
New editor for Sunday Book Review
Aug 18 2016: Pamela Paul, editor of the New York Times Sunday Book Review, has been given an expanded role at the paper. She will now oversee all book coverage for the Times, including the daily Books section, book news, and publishing industry news.
Three new Harry Potter books publishing as ebooks on September 6.
Aug 18 2016: In addition to the "Harry Potter and the Cursed Child" London play, also available as a published script, and the upcoming "Fantastic Beasts and Where to Find Them" movie, Harry Potter fans now have three new publications to look forward to in 2016 - all publishing ...
Author Thomas Steinbeck dies aged 72
Aug 16 2016: Thomas Steinbeck, the eldest son of the novelist John Steinbeck and, later in life, a fiction writer who fought bitterly in a family dispute over his father's estate, died on Thursday at his home in Santa Barbara, Calif. He was 72.
US bookstore sales record 10th month of continuous year on year growth
Aug 15 2016: June USA bookstore sales rose 5%, to $770 million, compared to June 2015, according to preliminary estimates from the Census Bureau. This is the 10th month in a row that bookstore sales have increased.
Support BookBrowse
Become a Member and discover books that entertain, engage & enlighten!
Editor's Choice
Before We Sleep
by Jeffrey Lent Katey Snow, aged seventeen, leaves home one night. "There was a void within her and one that could ...

The Hermit
by Thomas Rydahl If you can be comfortable with Scandinavian noir played out against the sun-drenched backdrop of ...

The Radium Girls
by Kate Moore In 1915, Austrian-born Sabin von Sochocky developed a luminescent paint that used radium to create a...
Win this book!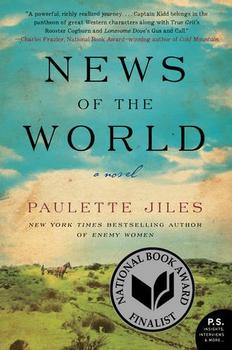 News of the World
A brilliant work of historical fiction that explores the boundaries of family, responsibility, honor, and trust.
First Impressions
The Weight of Ink
by Rachel Kadish

An intellectual, suspenseful, and entertaining page-turner.
Reader Reviews
Word Play
Solve this clue:
and be entered to win..
Book Discussion
Books that


entertain,
engage
& enlighten


Visitors can view some of BookBrowse for free. Full access is for members only.