Breaking news on authors, publishers, and book-related topics
BookBrowse Book News
Page 4 of 233
Colin Dexter, creator of the Inspector Morse novels, died Tuesday
Mar 21 2017: The crime writer Colin Dexter, creator of the much-loved character Inspector Morse, has died at the age of 86.

A statement from his publisher, Macmillan, said: "With immense sadness, Macmillan announces the death of Colin Dexter, who died peacefully at home in Oxford...
National Book Critics Circle Awards
Mar 17 2017: The winners of the 2016 National Book Critics Circle Awards were announced last night:

Fiction: LaRose by Louise Erdrich
Nonfiction: Evicted: Poverty and Profit in the American City by Matthew Desmond
Poetry: House of Lords and Commons by Ishion Hutchinson
...
Oxford comma dispute that could cost millions!
Mar 17 2017: The New York Times reports on a class-action lawsuit about overtime pay for truck drivers that hinges on perhaps the most polarizing punctuation mark - the Oxford comma.
Read so you know the world
Mar 17 2017: Libyan author Hisham Matar offers an inspiring ode to the power of books in The New York Times:

"Whenever I was encouraged by my elders to pick up a book, I was often told, 'Read so as to know the world.' And it is true; books have invited me into different countries,...
Reading Without Walls Month to debut in April
Mar 16 2017: Reading Without Walls Month makes its debut this April. This program, an annual celebration of reading and diversity, is inspired by the platform of the National Ambassador for Young People's Literature, Gene Luen Yang. The National Ambassador program is a partnership ...
Richard Wagamese dies aged 61
Mar 15 2017: Canadian author Richard Wagamese, one of the leading indigenous writers in North America, died March 10. He was 61. Wagamese began his writing career in 1979, first as a journalist, then as a radio and television broadcaster. In 1991, he became the first indigenous ...
Amy Krouse Rosenthal dies aged 51
Mar 13 2017: Amy Krouse Rosenthal, a prolific children's book author, memoirist and public speaker who, dying of cancer, found an extraordinarily large readership this month with a column in The New York Times titled "You May Want to Marry My Husband," died on Monday at her home in ...
Bertelsmann looking to raise stake in Random House
Mar 13 2017: German media group Bertelsmann is looking to raise its stake in its Random House joint venture with Pearson from 53 percent to between 70 and 75 percent and will find a long-term partner if necessary for the rest, its chief executive told Der Spiegel. The news comes ...
Support BookBrowse
Become a Member and discover books that entertain, engage & enlighten!
Editor's Choice
Before We Sleep
by Jeffrey Lent Katey Snow, aged seventeen, leaves home one night. "There was a void within her and one that could ...

The Hermit
by Thomas Rydahl If you can be comfortable with Scandinavian noir played out against the sun-drenched backdrop of ...

The Radium Girls
by Kate Moore In 1915, Austrian-born Sabin von Sochocky developed a luminescent paint that used radium to create a...
Win this book!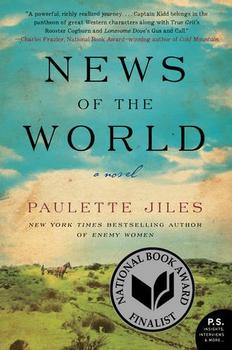 News of the World
A brilliant work of historical fiction that explores the boundaries of family, responsibility, honor, and trust.
First Impressions
The Weight of Ink
by Rachel Kadish

An intellectual, suspenseful, and entertaining page-turner.
Reader Reviews
Word Play
Solve this clue:
and be entered to win..
Book Discussion
Books that


entertain,
engage
& enlighten


Visitors can view some of BookBrowse for free. Full access is for members only.