Breaking news on authors, publishers, and book-related topics
BookBrowse Book News
Page 28 of 232
James Patterson giving away $1.25m to school libraries
Mar 09 2015: After giving away $1 million to independent bookstores last year, author James Patterson is giving $1.25 million to school libraries this year. Donations will range from $1,000 to $10,000 per school. Anyone can nominate a school library, click below for application
Elizabeth McCracken wins $20,000 Story Prize for Thunderstruck
Mar 05 2015: Elizabeth McCracken has won The Story Prize for her collection Thunderstruck. The prize is worth $20,000

The other finalists for The Story Prize for books published in 2014 were authors Francesca Marciano for The Other Language (Pantheon) and Lorrie Moore for Bark (...
Yasar Kemal, Turkish novelist and outspoken political critic, dies aged 91
Mar 03 2015: Yasar Kemal, the master storyteller who repeatedly clashed with the Turkish state while emerging as his country's first novelist of global stature, died on Saturday in Istanbul aged 91.
B&N to separate its college business from retail & Nook
Feb 26 2015: In a move that has surprised some in the industry, Barnes & Noble announced today that it plans to separate its college business from its retail stores and Nook digital units.

While a split has been on the cards for about a year, it was generally thought that the ...
Maya Angelou to be honored with postage stamp
Feb 24 2015: Poet and bestselling author Maya Angelou will be honored with a Forever Stamp, the U.S. Postal Service announced Monday.

Angelou, best known for I Know Why the Caged Bird Sings, her searing memoir about life in the Jim Crow South, died May 28, 2014, at age 86.
Today's students still prefer print
Feb 24 2015: Textbook makers, bookstore owners and college student surveys all say millennials still strongly prefer print when studying - but also for personal reading. A University of Washington pilot study of digital textbooks found that a quarter of students still bought print ...
Oscar winners based on books
Feb 23 2015: Five of the eight best picture nominees at last night's Oscars were based on books or book related and a number were also winners, including:

Birdman or (The Unexpected Virtue of Ignorance), which centers on a Broadway stage adaptation of Raymond Carver's story "What...
New Dr. Seuss book to publish late July
Feb 18 2015: Random House have announced that a new Dr. Seuss book will be published on July 28 - after the full text and illustrations of What Pet Should I Get? was found in the office of Ted Geisel (aka Dr. Seuss). It is believed to have been written in the late '50s/early '60s ...
Support BookBrowse
Become a Member and discover books that entertain, engage & enlighten!
Editor's Choice
Wonderful Feels Like This
by Sara Lovestam High school is hard; or perhaps, more accurately, growing up and finding oneself is hard. This is ...

Blue Light Yokohama
by Nicolas Obregon Blue Light Yokohama, Nicolás Obregón's crime fiction debut, takes place in an exotic ...

Inferno
by Steven Hatch The word "Ebola" sets off an almost visceral reaction in many of us; we think about the men, women ...
Book Discussion
First Impressions
The Book of Summer
by Michelle Gable

The bestselling author of The Paris Apartment, Michelle Gable now transports readers to Nantucket.
Reader Reviews

The Scribe of Siena
by Melodie Winawer

Equal parts transporting love story, meticulously researched historical fiction, and compelling time-travel narrative.
Reader Reviews
Win this book!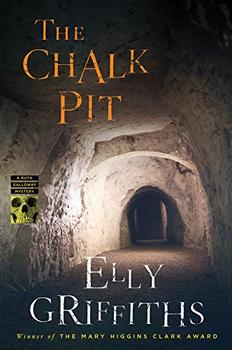 The Chalk Pit:
A Ruth Galloway Mystery
A string of murders takes Ruth underground in the newest book in the series.
Word Play
Solve this clue:
and be entered to win..
Books that


entertain,
engage
& enlighten


Visitors can view some of BookBrowse for free. Full access is for members only.