Breaking news on authors, publishers, and book-related topics
BookBrowse Book News
Page 26 of 232
Atticus Lish Wins the 2015 PEN/Faulkner Award for Fiction
Apr 07 2015: Atticus Lish won the $15,000 PEN/Faulkner Award on Tuesday for his debut novel, Preparation for the Next Life. In a statement released Tuesday morning, the judges praised Lish's novel as a work of fiction that "scours and illuminates the vast, traumatized America that ...
Magazine reviews still dominated by male authors & critics
Apr 07 2015: The continuing bias towards men in the British and American literary establishment has been confirmed by a study released on Tuesday. Vida, a US organization championing women in literature, examined a wide range of publications from both sides of the Atlantic, ...
B&N to place Indie bookstore kiosks in some stores
Apr 01 2015: Barnes & Noble is piloting a program to place IndieBound kiosks (to be known as Crannies) in some stores. Nearby independent booksellers will visit weekly and adjust inventory on an as-needed basis. The kiosks will also have a touch screen allowing users to explore ...
Obama appoints book industry philanthropist James Patterson as Book Czar
Apr 01 2015: President Barack Obama has appointed bestselling author and noted book industry philanthropist James Patterson to coordinate the administration's support of independent bookstores nationwide, a White House official confirmed Monday. The new "Book Czar" will report ...
Swedish poet and Nobel winner Tomas Transtromer dies aged 83
Mar 30 2015: Tomas Transtromer, Scandinavia's best-known and most influential contemporary poet, died on Thursday in Stockholm. He was 83. Winner of the Nobel Prize in Literature in 2011, his work has been translated into over 50 languages, with substantial or complete editions ...
Survey finds that Millennials Prefer Print Books and Bookstores
Mar 29 2015: A Publishing Technology survey of 1000 Millennials (aged 18-34) in the U.S. found that 79% read a print book in the last year, while 46% had read an e-book on a tablet and only 31% had read an e-book on a dedicated e-reader. Millennials also reported reading e-books on ...
Ferguson Public Library Director wins $10,000 Adversity Prize
Mar 25 2015: Scott Bonner, director of the Ferguson Public Library in Missouri, has been selected to receive the second annual Lemony Snicket Prize for Noble Librarians Faced with Adversity worth $10,000.

Last summer, the shooting of unarmed teenager Mike Brown by police officer ...
Finalists announced for Man Booker International Prize 2015
Mar 24 2015: Ten writers are on the judges' list of finalists under serious consideration for the sixth Man Booker International Prize, the £60,000 award which recognises one writer for his or her achievement in fiction.

The authors come from ten countries with six new ...
Support BookBrowse
Become a Member and discover books that entertain, engage & enlighten!
Editor's Choice
Wonderful Feels Like This
by Sara Lovestam High school is hard; or perhaps, more accurately, growing up and finding oneself is hard. This is ...

Blue Light Yokohama
by Nicolas Obregon Blue Light Yokohama, Nicolás Obregón's crime fiction debut, takes place in an exotic ...

Inferno
by Steven Hatch The word "Ebola" sets off an almost visceral reaction in many of us; we think about the men, women ...
Book Discussion
First Impressions
The Scribe of Siena
by Melodie Winawer

Equal parts transporting love story, meticulously researched historical fiction, and compelling time-travel narrative.
Reader Reviews

The Book of Summer
by Michelle Gable

The bestselling author of The Paris Apartment, Michelle Gable now transports readers to Nantucket.
Reader Reviews
Win this book!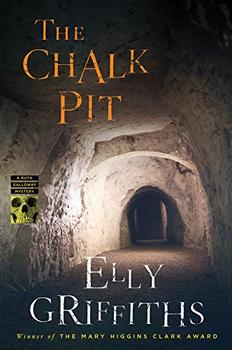 The Chalk Pit:
A Ruth Galloway Mystery
A string of murders takes Ruth underground in the newest book in the series.
Word Play
Solve this clue:
and be entered to win..
Books that


entertain,
engage
& enlighten


Visitors can view some of BookBrowse for free. Full access is for members only.