Breaking news on authors, publishers, and book-related topics
BookBrowse Book News
Page 25 of 234
Amazon to pay Kindle authors only for pages read, not books downloaded
Jun 16 2015: Amazon is changing the way it pays authors royalties for participation in its Kindle Unlimited e-book lending library in a move that would appear to be less favorable for authors.

Previously, Amazon paid royalties on the whole downloaded book if at least 10 percent ...
Paul Bacon, influential designer of more than 6500 book jackets dies aged 91
Jun 11 2015: You may not know his name but the chances are you've read many of his books. Paul Bacon, the influential designer of about 6500 book jacket covers including major literary works like Joseph Heller's Catch-22 and Philip Roth's Portnoy's Complaint, died on Monday in ...
European Commission opens antitrust investigation into Amazon
Jun 11 2015: The European Commission has opened a formal antitrust investigation into certain business practices by Amazon in the distribution of ebooks. The Commission will in particular investigate certain clauses included in Amazon's contracts with publishers. These clauses ...
Juan Felipe Herrera - the first Hispanic American U.S. poet laureate will be sworn in today
Jun 11 2015: Juan Felipe Herrera will become the first Hispanic American U.S. poet laureate when he is sworn in today.

He learned to love poetry by singing songs about the Mexican Revolution with his mother, a migrant farmworker in California.

Herrera, aged 66, has published ...
Four productions based on books win Tony Awards
Jun 08 2015: Four plays based on books won awards at yesterday's Tony Awards:

The Curious Incident of the Dog in the Night-Time by Simon Stephens (book by Mark Haddon) won 5 Awards including Best Play.

Fun Home (music by Jeanine Tesori, lyrics by Lisa Kron), was nominated 12 ...
Jacqueline Woodson named Young People's Poet Laureate
Jun 04 2015: Jacqueline Woodson has been named the Young People's Poet Laureate by the Poetry Foundation. Awarded every two years, the $25,000 laureate title is given to a living writer in recognition of a career devoted to writing exceptional poetry for young readers. The laureate ...
Mathematician John F. Nash Jr, and his wife Alicia die in car crash
May 24 2015: Nobel Prize-winning mathematician John F. Nash Jr., known to many due to Sylvia Nasar's bestselling book, A Beautiful Mind, and the subsequent film of the same name, was killed on Saturday with his wife, Alicia, in a car crash. He was 86, she was 82. They were taking a ...
Man Booker International prize 2015 goes to László Krasznahorkai
May 19 2015: The Hungarian author László Krasznahorkai (pronounced Laas-lo Krasna-hor-kai) has won the Man Booker International prize for his "achievement in fiction on the world stage". Chair of judges Marina Warner, the academic and writer, compared Krasznahorkai's work to Kafka –...
Support BookBrowse
Become a Member and discover books that entertain, engage & enlighten!
Editor's Choice
Priestdaddy
by Patricia Lockwood Patricia Lockwood is a poet and the daughter of Greg Lockwood, a Catholic priest. While Catholic ...

Before We Sleep
by Jeffrey Lent Katey Snow, aged seventeen, leaves home one night. "There was a void within her and one that could ...

The Hermit
by Thomas Rydahl If you can be comfortable with Scandinavian noir played out against the sun-drenched backdrop of ...
Win this book!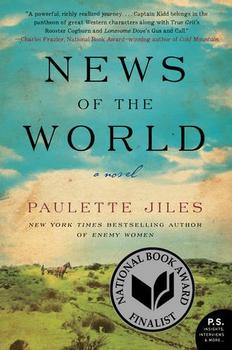 News of the World
A brilliant work of historical fiction that explores the boundaries of family, responsibility, honor, and trust.
First Impressions
The Weight of Ink
by Rachel Kadish

An intellectual, suspenseful, and entertaining page-turner.
Reader Reviews
Word Play
Solve this clue:
and be entered to win..
Book Discussion
Books that


entertain,
engage
& enlighten


Visitors can view some of BookBrowse for free. Full access is for members only.