Breaking news on authors, publishers, and book-related topics
BookBrowse Book News
Page 1 of 232
Jean Fritz, author of ground-breaking historical biographies for children, dies aged 101
May 19 2017: Jean Fritz, an award-winning writer whose work helped transform historical biographies for children from leaden recitals of battles and dates into warm, human narratives full of quirks and crotchets and satisfyingly strange facts, died on Sunday at her home in Sleepy ...
Businesses unite to advocate to retain federal library funding
May 17 2017: America's libraries got a major boost this week on Capitol Hill as a group of leading publishing, information, software, and other businesses unveiled an organized effort to advocate for federal library funding. The move comes in response to the Trump administration's ...
Margarita Engle named Young People's Poet Laureate
May 15 2017: Margarita Engle has been named the Young People's Poet Laureate by the Poetry Foundation. Awarded every two years, the $25,000 laureate title is given to a living writer in recognition of a career devoted to writing exceptional poetry for young readers. The laureate ...
Suite Francaise, adapted from Irene Nemirovsky, will premiere on Lifetime May 22
May 15 2017: Suite Française, adapted from the bestselling book by Irene Nemirovsky will premiere on the Lifetime network May 22.
California bookstore files suit against a state law preventing stores selling autographed books or hosting author events
May 13 2017: Represented by the Pacific Legal Foundation, Book Passage--with stores in Corte Madera, Sausalito and San Francisco, Calif.--and co-owner Bill Petrocelli have filed suit against a state law that, the plaintiffs say, "will make it extremely risky, if not impossible, for ...
Publisher and author organizations join the many others criticizing Amazon's new policy
May 10 2017: Several publishers and authors organizations have officially joined the many book world people criticizing Amazon's new policy allowing third-party booksellers to "bid" for the primary spot in buy buttons.

A statement from the Authors Guild called the move "deeply ...
Amazon allows third-party book re-sellers to "win" buy buttons on book pages
May 09 2017: A new program from Amazon is drawing a range of reactions from those across the publishing industry, from fear to downright anger. The e-tailer has started allowing third-party book re-sellers to "win" buy buttons on book pages. The program, publishers, agents, and ...
Granta announces its once in a decade Best Young American Novelists list
Apr 29 2017: Once every 10 years Granta issues a special issue focused on new American fiction, "showcasing the young novelists deemed to be the best of their generation--writers of remarkable achievement and promise, still in their twenties and thirties."

It's Best of Young ...
Support BookBrowse
Become a Member and discover books that entertain, engage & enlighten!
Editor's Choice
Wonderful Feels Like This
by Sara Lovestam High school is hard; or perhaps, more accurately, growing up and finding oneself is hard. This is ...

Blue Light Yokohama
by Nicolas Obregon Blue Light Yokohama, Nicolás Obregón's crime fiction debut, takes place in an exotic ...

Inferno
by Steven Hatch The word "Ebola" sets off an almost visceral reaction in many of us; we think about the men, women ...
Book Discussion
First Impressions
The Scribe of Siena
by Melodie Winawer

Equal parts transporting love story, meticulously researched historical fiction, and compelling time-travel narrative.
Reader Reviews

The Book of Summer
by Michelle Gable

The bestselling author of The Paris Apartment, Michelle Gable now transports readers to Nantucket.
Reader Reviews
Win this book!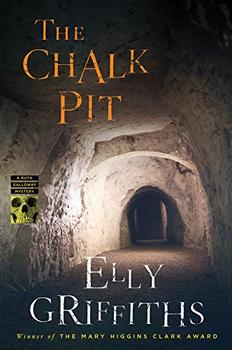 The Chalk Pit:
A Ruth Galloway Mystery
A string of murders takes Ruth underground in the newest book in the series.
Word Play
Solve this clue:
and be entered to win..
Books that


entertain,
engage
& enlighten


Visitors can view some of BookBrowse for free. Full access is for members only.