Breaking news on authors, publishers, and book-related topics
BookBrowse Book News
Page 5 of 233
Did Jane Austen die of arsenic poisoning?
Mar 13 2017: The British Library published an article last week suggesting that Jane Austen, who died in 1817 aged 41 in 1817, was killed by arsenic poisoning.

Previous causes of her death have thought to have been either cancer or an adrenal disorder but an article published on...
HarperCollins celebrates its 200th anniversary
Mar 07 2017: HarperCollins is launching a global campaign to celebrate the company's 200th anniversary. Robert Thomson, CEO of parent company News Corp., says: "We're excited to celebrate this milestone anniversary and give thanks to the employees, authors, librarians, booksellers, ...
Caravan to Yale: The stolen child who became a star poet
Mar 05 2017: Ali Cobby Eckermann, an Aboriginal poet, forcibly taken from her mother when she was a young child, is one of eight writers to win a $162,000 Windham-Campbell prize from Yale University. The committee commended her for confronting "the violent history of Australia's ...
Obamas pen deal with Penguin Random House
Mar 01 2017: Penguin Random House has acquired the rights for two books, to be written by former US President Barack Obama and his wife Michelle respectively. Details of the deal have not been announced but it is rumored that the deal cost Random House between $30-$60 million.

...
Plenty of book-related nominations at this year's Oscars, but few winners
Feb 27 2017: Shelf Awareness reports that five of the nine best picture nominees at this year's Academy Awards were book related and there were plentiful book related nominations in other categories. But few award winners, particularly compared with recent years.

The winners were...
Author Frank Delaney dies aged 74
Feb 24 2017: Irish-born author Frank Delaney, 74, died on February 21 after a stroke. His books include the novel Ireland, the nonfiction book Simple Courage, and an ongoing podcast on James Joyce's Ulysses. A new novel is forthcoming from Putnam.
Louise Penny receives Order of Canada
Feb 21 2017: Author Louise Penny has been appointed to the Order of Canada which is one of the country's highest civilian honors, recognizing "outstanding achievement, dedication to the community and service to the nation."
Milo Yiannopoulos book deal cancelled after outrage over child abuse comments
Feb 20 2017: Simon & Schuster has cancelled the publication of Milo Yiannopoulos' book, and his fellow Breitbart employees have reportedly threatened to quit if he is not fired.

Simon & Schuster's decision follows outrage over a recording that appeared to show Yiannopoulos ...
Support BookBrowse
Become a Member and discover books that entertain, engage & enlighten!
Editor's Choice
Before We Sleep
by Jeffrey Lent Katey Snow, aged seventeen, leaves home one night. "There was a void within her and one that could ...

The Hermit
by Thomas Rydahl If you can be comfortable with Scandinavian noir played out against the sun-drenched backdrop of ...

The Radium Girls
by Kate Moore In 1915, Austrian-born Sabin von Sochocky developed a luminescent paint that used radium to create a...
Win this book!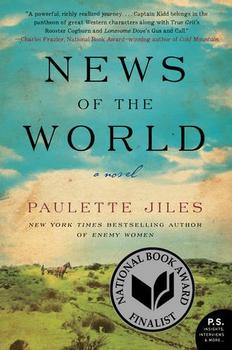 News of the World
A brilliant work of historical fiction that explores the boundaries of family, responsibility, honor, and trust.
First Impressions
The Gypsy Moth Summer
by Julia Fierro

One of the most anticipated books of 2017.
Reader Reviews
Word Play
Solve this clue:
and be entered to win..
Book Discussion
Books that


entertain,
engage
& enlighten


Visitors can view some of BookBrowse for free. Full access is for members only.