Breaking news on authors, publishers, and book-related topics
BookBrowse Book News
Page 22 of 234
National Humanities Medal award winners
Sep 04 2015: The White House today announced the distinguished recipients of the 2014 National Humanities Medal. The awardees include historians, writers, a philosopher, scholar, preservationist, food activist and an education course. President Barack Obama will confer the medal in ...
Don DeLillo awarded National Book Foundation Medal for Distinguished Contribution to American Letters
Sep 03 2015: The 2015 National Book Foundation Medal for Distinguished Contribution to American Letters has been awarded to Don DeLillo for "a diverse body of work that examines the mores of contemporary modern American culture and brilliantly embeds the rhythms of everyday speech ...
Survey shows that millennials are more irked by spelling errors than older groups
Sep 01 2015: A survey by Dictionary.com appears to show that, while older generations might consider themselves the last bastions of correct spelling and grammar, almost three quarters of 18-34 year olds are irked by grammar and spelling slips on social media - higher than any other...
Neurologist and author Oliver Sacks has died aged 82
Aug 30 2015: British neurologist and author Oliver Sacks has died at the age of 82 in New York.

Dr Sacks earned a medical degree at Queen's College, Oxford University, and later began working as a consulting neurologist for Beth Abraham Hospital, in the Bronx, New York, in 1966....
Drama at this year's Hugo Awards as factions that played dirty to swing the vote to white male authors get voted down.
Aug 24 2015: Wired reports on this year's Hugo Awards, the highest honors in science fiction and fantasy writing, which were announced at the 73rd World Science Fiction Convention in Spokane, Washington.

The awards took on an unusual level of drama this year:
"... But in ...
Jeff Bezos rebuts NY Times article with an open letter to employees #amazon
Aug 17 2015: In response to Sunday's New York Times article that describes Amazon as a cruel and back-stabbing environment, Jeff Bezos sent a company wide memo to employees which has been posted on GeekWire:

"...The NYT article prominently features anecdotes describing ...
NY Times article reveals dog eat dog culture among Amazon white collar workers
Aug 15 2015: In an extensive article The New York Times looks at how Amazon is conducting an experiment in how far it can push white-collar workers to get them to achieve its ever-expanding ambitions. Written by Jodi Kantor and David Streitfeld the piece paints a picture of a harsh ...
Alan Cheuse, novelist, teacher and longtime literary commentator for NPR has died aged 75
Aug 03 2015: Alan Cheuse, the novelist, teacher and longtime literary commentator for NPR, died on Friday from injuries sustained in a car accident in California two weeks ago. He was 75.

"On behalf of the family, we are in deep grief at the loss of our beloved father, husband ...
Support BookBrowse
Become a Member and discover books that entertain, engage & enlighten!
Editor's Choice
Do Not Become Alarmed
by Maile Meloy Full disclosure: I've never had any desire to go on a cruise. I start getting antsy and ...

Priestdaddy
by Patricia Lockwood Patricia Lockwood is a poet and the daughter of Greg Lockwood, a Catholic priest. While Catholic ...

Before We Sleep
by Jeffrey Lent Katey Snow, aged seventeen, leaves home one night. "There was a void within her and one that could ...
Win this book!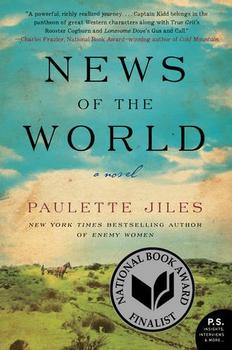 News of the World
A brilliant work of historical fiction that explores the boundaries of family, responsibility, honor, and trust.
First Impressions
The Essex Serpent
by Sarah Perry

Costa Book Award Finalist and the Waterstones (UK) Book of the Year 2016
Reader Reviews
Word Play
Solve this clue:
and be entered to win..
Book Discussion
Books that


entertain,
engage
& enlighten


Visitors can view some of BookBrowse for free. Full access is for members only.