Beyond the Book:
Floods in Myth and Legend
The End We Start From takes place during a drastic, near-future flood that impacts London and its surrounding territory. During 2017, floods surged over many regions of the world. As the plausibility of future catastrophic flooding seems more and more likely, it is fascinating to take a look at how floods figure prominently in ancient legends, from a variety of traditions. Here's a quick summary of an incredibly complex and rich heritage of their mythology.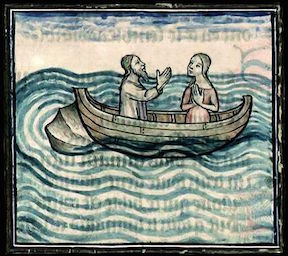 Genesis describes the story of Noah and his ark, which takes place near modern day Mount Ararat in Anatolia (Turkey). Long before the first written record of Genesis, the Sumerians told a flood story in the Epic of Gilgamesh, about 2500 BCE. Torrential rain caused great flooding and only a few chosen people survived. A classical Greek myth describes Zeus cursing humanity with a flood, but Deucalion builds a wooden chest and rides out the deluge until he comes to rest on Mount Parnassus. There, he strikes a bargain with Zeus and repopulates earth by throwing stones off the mountain. The stones become people, and history marches forward.

Māori oral tradition in New Zealand tells about great waves that were originally provoked by a rivalry between brothers Paikea and Ruatapu. Ruatapu plotted to drown Paikea and his followers by sinking their wooden ocean canoe. However, Paikea survived with the help of a whale, and ascended as leader. Ruatapu (who also drowned) threatened to return each year in the form of huge waves to pound the shores in retribution. The award winning film Whale Rider (2002), based on a novel by Witi Ihimaera, is a modern retelling of this story.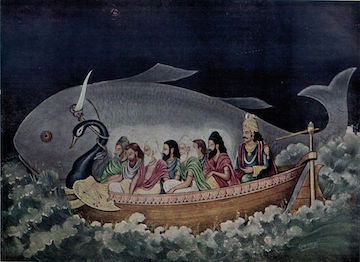 Hindu literature describes Vishnu incarnating into a fish called Matsya in order to warn the human Manu to build a boat and collect grains and seeds. Manu and his companions survive an epic flood and repopulate India after surviving numerous challenges.

The Mbuti people who live along the Congo River tell of a chameleon that heard strange noises coming from a tree. He cut open the trunk, and water spilled over the land. From the water, the first people emerged.

Many Native American tribal myths include flooding. Some floods are caused by great shaking of the earth, others by rain. Turtle Island (the Native American name for Earth) was founded after a deluge delivered by the great spirits who were angry about human disharmony. Creatures such as Muskrat, Beaver, Otter and the birds were able to survive in the watery world. They salvaged bits of rock and dirt, placing them on Turtle's back in order to build a new land. Thus all of existence now depends on Turtle. Other tribal stories credit Raven or even Whale with saving the world after flooding.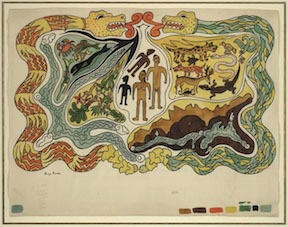 In the world of the Mayan Popol Vuh, creation was rather haphazard, with early attempts to create people from mud or from wood unsuccessful. Then, the Heart of the Sky sent great rains and flooding, wiping the landscape clean so they could start over. Eventually, people were created from cornmeal, and to this day, modern Maya worship maize and pay deference to cycles of rain and drought.

It's easy to see how real episodes of flooding, tsunami, hurricane, or torrential rainstorms continue to inspire authors and artists. Throughout ancient history, human imagination has struggled to explain the great forces of nature, devising all manner of festivals, songs, stories, and feats of engineering in order to ward off future natural disasters - but they keep on coming.
Deucalion and his wife
Manu and Matsya
Diego Rivera's Mayan Popol Vuh Origin Story
This article is from the January 3, 2018 issue of BookBrowse Recommends. Click here to go to this issue.
This article is available to non-members for a limited time. You can also read these articles for free. For full access, become a member today.
Membership Advantages
Reviews
"Beyond the Book" backstories
Free books to read and review (US only)
Find books by time period, setting & theme
Read-alike suggestions by book and author
Book club discussions
and much more!
Just $10 for 3 months or $35 for a year