In An American Sickness, Dr. Elisabeth Rosenthal provides many intriguing details about the U.S. healthcare system. Here are a few: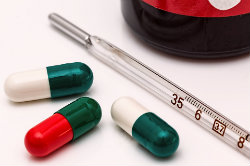 The first employer-sponsored health insurance plan was developed in Dallas, Texas in 1929 as a sort of pre-paid hospitalization account offered to teachers in the area. It evolved into Blue Cross over the ensuing decade, becoming the United States' first national health insurance plan.
The healthcare industry spends $15 billion in the USA annually on advertising. In 2000 pharmaceutical company Merck spent more on ads for just one new painkiller (Vioxx) than Budweiser, Pepsi or Nike did for all their products that same year. The USA is one of only two countries to permit advertising of drugs on television (the other is New Zealand).
74 percent of the cancer drugs approved by the FDA during the previous decade ultimately did not extend life by even a single day.
Drug companies can apply for a new patent for drugs that are a combination of older ...