The Mütter Museum
This article relates to Dr. Mütter's Marvels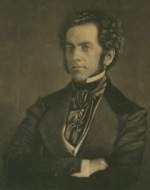 The author of Dr. Mütter's Marvels, Cristin O'Keefe Aptowicz, has said that the inspiration for her book came from a school field trip taken to Philadelphia's Mütter Museum. The museum got its start when the surgeon bequeathed a collection of interesting anatomical specimens to the College of Physicians with a stipulation that "by accepting his donation of 1,700 objects and $30,000, the College must hire a curator, maintain and expand the collection, fund annual lectures, and erect a fireproof building to house the collection." That fireproof building housing the original collection was completed in 1863 but years later, the museum's collections moved to its current location at 19 South 22nd Street, and has been open to the public here for more than 100 years.

The museum's curator publishes a special weekly online video segment that focuses the public's attention on several specimens from the institute's collections. Since Dr. Mütter's starter set, the collection has grown to more than 25,000 objects - including anatomical models and antique medical instruments.

Some of the many interesting examples in the institute's extensive collection are:

Cross-sections of Einstein's Brain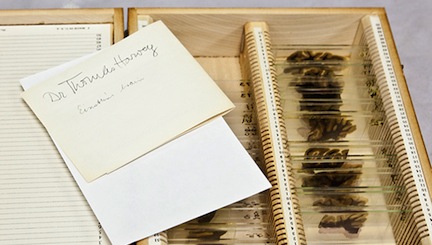 Slices of the Nobel Laureate's brain, 20 microns thick, are preserved on glass slides and showcased in the museum's main gallery. Dr. Thomas Harvey, the physician who conducted the autopsy on Albert Einstein, removed the brain without permission, but was later given the go-ahead as long as he used it for science.

Woman With Horn
Dr. Mütter was famous for treating patients whom the rest of the world routinely labeled as "monsters." Early on in his career, a case that fascinated him was one of a French laundry woman, Madame Dimanche, who had a "horn" growing out of her forehead. The condition was not life-threatening but grew in a process similar to nails or hair. The horn was surgically removed and Dr. Mütter bought a wax model of the pre-surgery face from a medical shop in Paris. That acquisition is part of the Mütter museum's collections.

The Soap Lady
This is the name given to the body of a woman that was exhumed in 1875 from the remains of a Philadelphia fire. Her name comes from the fatty substance called adipocere that covers the body, which apparently can form in warm and alkaline enirvonments in which the body was buried.

Hyrtl Skull Collection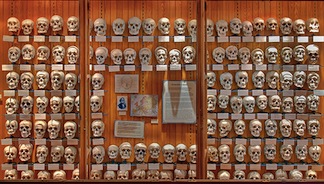 At a time when some phrenologists were convinced that racial differences showed up in variations in skull structure, and therefore were prepared to use such "evidence" to emphasize racial superiority, Joseph Hyrtl studied a vast number of specimens. He proved that, indeed, there were many variations, even among Caucasians. A collection of 139 skulls, each with the person's age and place of origin, is on permanent display at the Mütter Museum.

Aphrodisiac Made From Elephant's Tusk
Over 100 years ago, the Zulus collected a powder called daga from behind an elephant's tusk after its death. They believed that when mixed into a woman's drink, the powder would have the necessary desired effects.

The Pinterest board for the museum has some intriguing peeks at the collections. But be warned, some of the images are not for the faint of heart.
Dr. Thomas Dent Mütter, courtesy of Thomas Jefferson University
Einstein's Brain, courtesy of The Mütter Museum
Hyrtl Skull Collection, courtesy of The Mütter Museum
This "beyond the book article" relates to Dr. Mütter's Marvels. It originally ran in October 2014 and has been updated for the September 2015 paperback edition.
This review is available to non-members for a limited time. For full access become a member today.
Membership Advantages
Reviews
"Beyond the Book" backstories
Free books to read and review (US only)
Find books by time period, setting & theme
Read-alike suggestions by book and author
Book club discussions
and much more!
Just $12 for 3 months or $39 for a year