The definitive word on


what to
read next
The very best books entertain, engage and enlighten. They wrap us in their world, giving us a window into the lives of others or a mirror to reflect on ourselves. These are the books you'll find on BookBrowse. More
Members Get More
Discover your next great read here
Find a book
Find Your Next Great Read!
Discover your next great read here.We're readers just like you.
Discuss this book

Girl Waits with Gun

Constance Kopp doesn't quite fit the mold. She towers over most men, has no interest in marriage or domestic affairs, and has been isolated from the world since a family ...
Win this book!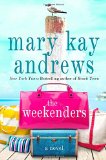 The Perfect Summer Escape!
Told with Mary Kay Andrews' trademark blend of humor and warmth.
First Impressions
The Children
by Ann Leary

With remarkable wit and insight, Ann Leary pulls back the curtain on one blended family.
Members read and review books before they're published. See what they'll be reviewing soon.
Word Play
Solve this clue:
and be entered to win..
Book Club Recommendations
The Blondes
by Emily Schultz

A hilarious and whipsmart novel where an epidemic of a rabies-like disease is carried only...

Book Reviewed by
Kate Braithwaite

The Fair Fight
by Anna Freeman

The Crimson Petal and the White meets Fight Club: A page-turning novel set in the world of...

Book Reviewed by
Kim Kovacs
Give a BookBrowse Membership
A BookBrowse Membership is the ideal gift for your book loving friends and family.
Your guide toexceptional books
BookBrowse seeks out and recommends books that we believe to be best in class. Books that will whisk you to faraway places and times, that will expand your mind and challenge you -- the kinds of books you just can't wait to tell your friends about.