Lady Cop Makes Trouble by Amy Stewart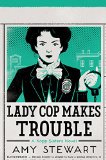 The best-selling author of Girl Waits with Gun returns with another adventure featuring the fascinating, feisty, and unforgettable Kopp sisters.
After besting (and arresting) a ruthless silk factory owner and his gang of thugs in
Girl Waits with Gun
, Constance Kopp became one of the nation's first female deputy sheriffs. She's proven that she can't be deterred, evaded, or outrun. But when the wiles of a German-speaking con man threaten her position and her hopes for this new life, and endanger the honorable Sheriff Heath, Constance may not be able to make things right. 
Lady Cop Makes Trouble
sets Constance loose on the streets of New York City and New Jersey - tracking down victims, trailing leads, and making friends with girl reporters and lawyers at a hotel for women. Cheering her on, and goading her, are her sisters Norma and Fleurette - that is, when they aren't training pigeons for the war effort or fanning dreams of a life on the stage. 
Based on a true story,
Girl Waits with Gun 
introduced Constance Kopp and her charming and steadfast sisters to an army of enthusiastic readers. Those readers will be thrilled by this second installment - also ripped from the headlines - in the romping, wildly readable life of a woman forging her own path, tackling crime and nefarious criminals along the way. 
Reviews
"Starred Review. Constance and her sisters are every bit as enjoyable in this outing as their first. Stewart deftly combines the rough-and-tumble atmosphere of early 20th-century New York City with the story of three women who want to live life on their own terms. The addition of supporting female characters who are also pushing societal boundaries is a welcome touch to the series." - Library Journal

"Smart, atmospheric fun, with enough loose ends left dangling to assure fans there will be more entries in this enjoyable series." - Kirkus

"The multiple players in the story provide wry situational humor and a backdrop for Kopp's unique, forceful character, while Sheriff Heath's surprisingly supportive regard lends a hopeful relational perspective." - Booklist

"A clever, suspenseful, and funny tale of a formidable woman facing crime, politics, social stigma, all while nailing evildoers... Fans of the first Kopp Sisters novel will find another treat in this follow-up." - Publishers Weekly

"Amy Stewart serves up another rip-roaring historical adventure in her second novel featuring Constance Kopp, pioneering female deputy sheriff. The fast-paced action, wry dialogue and Constance's reflections on her chosen career combine to make Lady Cop Makes Trouble a highly satisfying adventure." - Shelf Awareness
We have 5 hardcover copies of Lady Cop Makes Trouble by Amy Stewart to give away.

This offer is open to residents of the USA only, except for BookBrowse members who are welcome to enter wherever they live.
Giveaway ends August 30, 2016