Muse & Views Book Club
Meet the Muse & Views book club of Ottawa, Canada - a group of ten women who meet monthly for good conversation about a wide range of books.
June 2012
History Book Group
Lesley Fitzpatrick and Maggie Thompson, co-founders of the History Book Group in San Diego, CA., join us to talk about their approach to history, and offer up some great advice and selections.
May 2012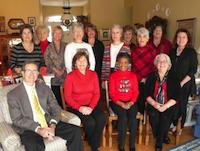 3 Rs Book Club - Retired, Relaxed and Reading
The 3 Rs Book Club - Retired, Relaxed and Reading - based in Tallahassee, Florida, joins us to discuss how these retired educators keep their meetings explosively fun: literature-inspired treats, historical presentations... even bringing a live grenade to a meeting!
April 2012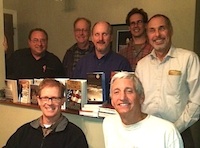 Boys Book Club (aka BBC)
The Boys Book Club - aka the "BBC" - based out of San Diego, California, is made up entirely of men between the ages of 45 and 60 and has been meeting monthly for over two years.
January 2012
Reading Rock Book Club
The Reading Rock Book Club in Dickson, TN, celebrates two years together this month. Laura Hill, owner of
Reading Rock Books
, joins us to talk about her group.
January 2012
Las Revistas Book Club
Rosemary Toland, one of the sixteen members of the San Antonio based book club Las
Revistas
, discusses how they've kept the discussion flowing over 25 years and more than 200 books!
October 2011
Books & Bars
Jeff Kamin runs the Minneapolis based Books & Bars book club which regularly attracts over 90 people to a meeting, about 40% of whom are men. Find out more about Jeff's unique concept for a book club...
January 2011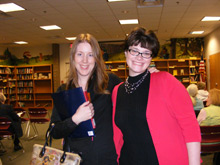 Lincoln Township Library Book Club
Kate Mitrovich runs a thematic book discussion group at the Lincoln Township Library in Stevensville, MI. The group is inspired by the ALA's "Let's Talk About It" book discussion model.
November 2010
Book It Book Club
Barb Watkins recently moved to Michigan, leaving behind her book club of eight years. However, it wasn't long before she formed a new book club! In this interview she chats with BookBrowse about her current book club and the mother-daughter club she started with her 4th grade daughter.
October 2010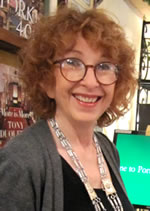 Donna Delacy
Donna Delacy has been running book groups across the US since 1968, from Dallas to Birmingham, Manhattan to Los Angeles. She joins us to share over 40 years of book club memories, advice, and inspiration.
May 2010
Would you be interested in being interviewed for this feature? If so, please
contact us
with brief details about your club. It is very helpful if you include both a contact email and a telephone number.