The heroes of the stories told in this book are not scientists who merely plodded rationally from point A to point B, but rather those who came upon X in the course of looking for Y, and saw its potential usefulness, in some cases to a field other than their own. Chance is but one element, perhaps the catalyst for creativity in scientific research. And, yes, the process of discovery is indeed creative. It involves unconscious factors, intuition, the ability to recognize an important anomaly or to draw analogies that are not obvious. A creative mind is open and can go beyond linear reasoning to think outside the box, look beyond conventional wisdom, and seize on the unexpected. Most important, a creative scientific mind recognizes when it is time to start viewing something from a whole new perspective.

Turning Reality on Its Side
One day in 1910, the Russian painter Wassily Kandinsky returned to his studio at dusk and was confronted with an object of dazzling beauty on his easel. In the half-light, he could make out no subject but was profoundly moved by the shapes and colors in the picture. It was only then that he realized the painting was resting on its side. Like an epiphany, this experience confirmed his growing belief in the emotional powers of colors and in the ultimate redundancy of the traditional subject of a picture. Kandinsky, who broke through to what he called "nonobjective" painting, is widely acknowledged as the father of abstract art.

By dipping into the world of art, and especially into visual illusions, scientists can gain perspective on illusions of judgment, also known as cognitive illusions. Gestalt psychologists have elaborated on such things as the balances in visual perception between foreground and background, dark and light areas, and convex and concave contours. The gist of their message is that too-close attention to detail may obscure the view of the whole — a message with special meaning for those alert to serendipitous discovery.

To readily appreciate this phenomenon, consider the paintings of the contemporary artist Chuck Close. Viewed at the usual distance, they are seen as discrete squares of lozenges, blips, and teardrops.

Viewed from a much greater distance, they can be appreciated as large, lifelike portraits.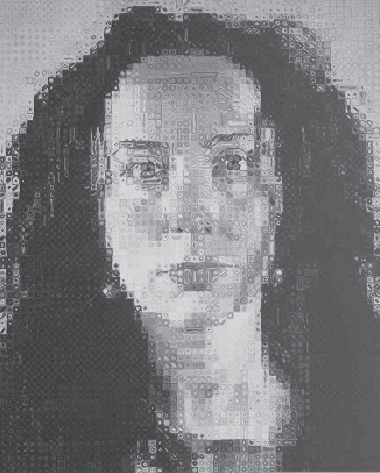 Chuck Close, Kiki, 1973. Oil on canvas, 100 x 84 in. Walker Art Center, Minneapolis.

In a Gestalt figure, such as the M. C. Escher drawing on the next page, one can see the devils or the angels, but not both at the same time. Even after you know that there is more than one inherent pattern, you see only one at a time; your perception excludes the others.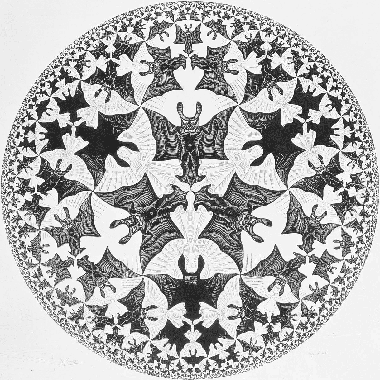 M. C. Escher, Circle Limit IV, 1960. Woodcut in black and ochre, printed from two blocks.
The same holds true for W. E. Hill's My Wife and My Mother-in- Law. It's easy to see his dainty wife, but you have to alter your whole way of making sense of the lines to see the big-nosed, pointy-chinned mother-in-law.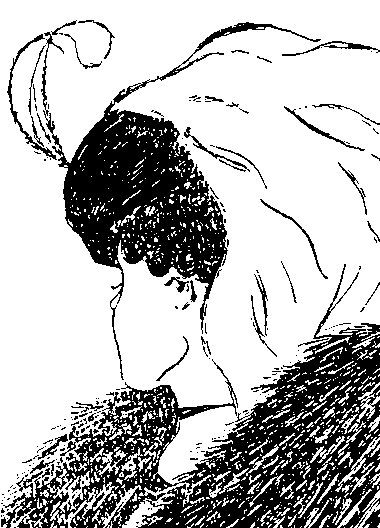 W. E. Hill, My Wife and My Mother-in-Law, 1915.
Certainly, if one's perspective is too tightly focused, gross distortion may result. This phenomenon has broad implications for medical research. So does the human tendency to believe that one's partial view of an image — or, indeed, a view of the world — captures its entirety. We often misjudge or misperceive what is logically implied or actually present. In drama this may lead to farce, but in science it leads to dead ends.

Excerpted from Happy Accidents by Morton Meyers, M.D. Copyright © 2007 by Morton Meyers, M.D. Excerpted by permission of Arcade Publishing. All rights reserved. No part of this excerpt may be reproduced or reprinted without permission in writing from the publisher.