Books with strong female leads.
Strong Female Leads
Total books found: 609
Page 1 of 12
Sorry, Strong Female Leads is a members-only category. Therefore, the results have been limited to 3 books. If you are a member, please sign in; if not, explore the many benefits of membership here.
The reviewer of each book decides which categories it belongs in - but we're only human, mistakes happen. If you see a book that you think is in the wrong place, tell us!
Support BookBrowse
Become a Member and discover books that entertain, engage & enlighten!
Editor's Choice
Do Not Become Alarmed
by Maile Meloy Full disclosure: I've never had any desire to go on a cruise. I start getting antsy and ...

Priestdaddy
by Patricia Lockwood Patricia Lockwood is a poet and the daughter of Greg Lockwood, a Catholic priest. While Catholic ...

Before We Sleep
by Jeffrey Lent Katey Snow, aged seventeen, leaves home one night. "There was a void within her and one that could ...
Win this book!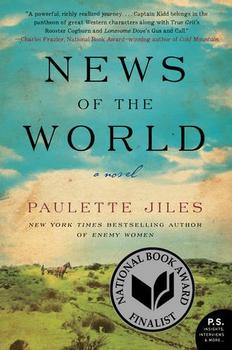 News of the World
A brilliant work of historical fiction that explores the boundaries of family, responsibility, honor, and trust.
First Impressions
The Essex Serpent
by Sarah Perry

Costa Book Award Finalist and the Waterstones (UK) Book of the Year 2016
Reader Reviews
Word Play
Solve this clue:
and be entered to win..
Book Discussion
Books that


entertain,
engage
& enlighten


Visitors can view some of BookBrowse for free. Full access is for members only.