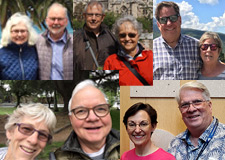 Book Club Interview
The Couples Book Group is a group of five couples who live in and around Seattle. Richard and his wife, Gretchen, began the group because they thought it would be fun to get a few friends together to read and discuss good books. And now, 23 years later they are still going strong!
Book Clubs at BookBrowse...
How can we help?
BookBrowse offers resources for book clubs, including advice, reading guides, and book club Q&As. You can also join other BookBrowsers to discuss books online.