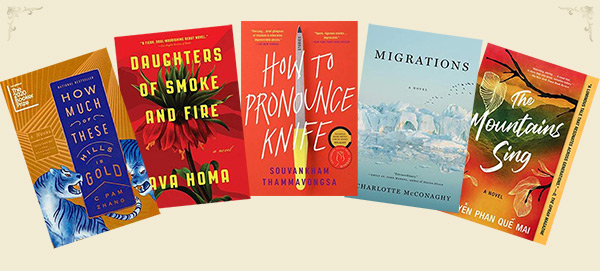 While happening upon a brilliant debut work of fiction is an exhilarating experience, it can be difficult to track down the best new books by emerging authors. It can also be challenging to decide which titles will be good choices for your book club without prior knowledge of the writers. So, here is a list of five spectacular debuts that have either recently been released in paperback or will be soon, and that we recommend for book club discussion.
Aside from all being debuts, all five offer unique perspectives on history or current events, spanning from the American Old West to 20th-century northern Vietnam to a fictional near-future. We're pleased to bring you these fresh and exciting literary voices and have reading guides for each to help ensure that your discussion experience goes smoothly.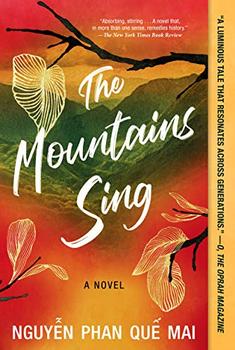 The Mountains Sing
by Nguyen Phan Que Mai
Paperback Mar 2021. 368 pages
Published by Algonquin Books
In her first novel in English, Nguyen Phan Que Mai tells a multigenerational tale of a north Vietnamese family from the 1920s to contemporary times who endure the hardships of war, famine and political corruption. The author's poetic imagery and captivating storytelling put an intensely personal spin on historical events from a perspective likely to be unfamiliar to many Americans.
The Mountains Sing
was highly rated by our First Impressions reviewers and voted the 2020 Best Debut Award Winner by subscribers; we've also
discussed it
in our own BookBrowse Book Club.
Read More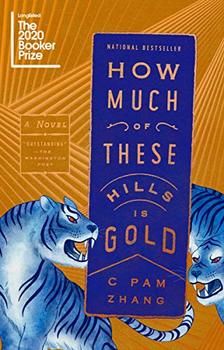 How Much of These Hills Is Gold
by C Pam Zhang
Paperback Apr 2021. 336 pages
Published by Riverhead Books
C. Pam Zhang's evocative language and powerful descriptions bring the American West to life through the eyes of young orphans Lucy and Sam. After having lost a mother who dreamed of returning to China and a father who dreamed of making a living as a prospector, they strike out on their own with little idea of what will come next for them. Drawing on the real history of Chinese Americans during the Gold Rush and elements of Chinese mythology, Zhang's novel takes readers on both a physical and conceptual journey.
Read More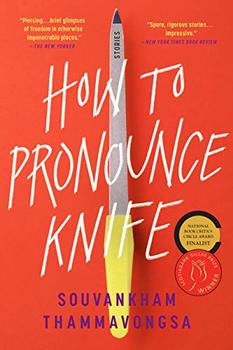 How to Pronounce Knife
by Souvankham Thammavongsa
Paperback Apr 2021. 192 pages
Published by Back Bay Books
Thammavongsa's debut story collection is fantastic reading for book groups who enjoy a bit of humor and subtle, spare writing that invites deep contemplation. This collection follows Lao immigrants and refugees living in Canada who struggle in their own unique ways with issues of assimilation and identity. The plots are often built on quirky setups, such as a housewife losing herself in a fantasy about the country music singer Randy Travis, but they unfold thoughtfully and deliberately, making for a bold and compelling read.
Read More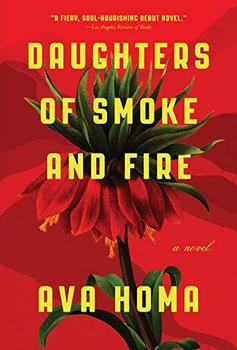 Daughters Of Smoke & Fire
by Ava Homa
Paperback May 2021. 304 pages
Published by The Overlook Press
Ava Homa's debut looks at Kurdish history and contemporary events, taking place over five decades through the perspective of Leila, a woman born in the Kurdish region of Iran. While the novel focuses on the discrimination Leila experiences based on her gender and ethnic background, as well as the political events that mark her life under an oppressive government, it does so through the lens of her interest in poetry, and with a focus on the triumph of creativity over adversity. We'll be discussing it in our
BookBrowse Book Club
in August.
Read More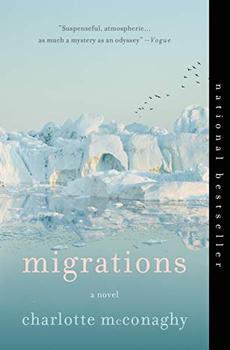 Migrations
by Charlotte McConaghy
Paperback Jul 6, 2021. 288 pages
Published by Flatiron Books
Charlotte McConaghy's novel tells of a future where the Earth's wildlife is on the brink of vanishing.  As Franny Stone embarks on a journey to follow the last of the Arctic terns, her quest to trace the path of these surviving migratory birds is presented alongside her personal demons, blending her internal drama with a grim but intriguing exploration of environmental devastation and species extinction. This ambitious and impressive work of fiction was a big hit with Our First Impressions reviewers, some of whom said it helped them out of a reading slump when they encountered it last year in the early months of the pandemic. We'll be
discussing
Migrations
in August.
Read More