Kristin Hannah's The Great Alone, takes its title from a line in "The Shooting of Dan McGrew", a poem composed by Robert W. Service, whose work inspires the main character throughout the book.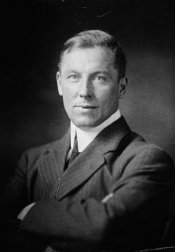 Robert W. Service (1874-1958), known as "The Bard of the Yukon," was born in Lancashire, England, the son of a banker and an heiress. He was sent to Kilwinning, Scotland at the age of five to live with his paternal grandfather and three unmarried aunts, who spoiled him shamelessly. He's said to have written his first poem there — an improvised grace — at the age of six, much to the delight and astonishment of his relatives.
God bless the cakes and bless the jam;
Bless the cheese and the cold boiled ham:
Bless the scones Aunt Jeannie makes,
And save us all from bellyaches. Amen.