Breaking news on authors, publishers, and book-related topics
BookBrowse Book News
Page 22 of 234
National Book Awards Longlist Announced
Sep 17 2015: The last of the National Book Award longlists was announced Thursday, with Hanya Yanagihara's Booker-shortlisted A Little Life joining the Booker-longlisted Did You Ever Have a Family by Bill Clegg, Edith Pearlman's short-story collection Honeydew (following up on the ...
Man Booker Shortlist Announced
Sep 15 2015: Marlon James, Tom McCarthy, Chigozie Obioma, Sunjeev Sahota, Anne Tyler and Hanya Yanagihara are the shortlisted authors for the 2015 Man Booker Prize for Fiction.

Their books are:

Marlon James (Jamaica), A Brief History of Seven Killings (Riverhead Books (USA))

...
Henrietta Lacks biographer Rebecca Skloot responds to US parent over 'porn' allegation
Sep 09 2015: Writer Rebecca Skloot has hit back at a Tennessee parent who is trying to have her acclaimed biography of Henrietta Lacks removed from local schools, saying the complainant is confusing "gynaecology with pornography".
Authors' fundraising page for Syrian refugee crisis raises $300,000 in one day
Sep 04 2015: Yesterday, Patrick Ness launched a fundraising page for Save the Children, with the money going "to help with the Syrian refugee crisis because I can no longer stand to just tweet about it." He offered to match GBP100,000 in donations (about US$150,000). Within hours, ...
National Humanities Medal award winners
Sep 04 2015: The White House today announced the distinguished recipients of the 2014 National Humanities Medal. The awardees include historians, writers, a philosopher, scholar, preservationist, food activist and an education course. President Barack Obama will confer the medal in ...
Don DeLillo awarded National Book Foundation Medal for Distinguished Contribution to American Letters
Sep 03 2015: The 2015 National Book Foundation Medal for Distinguished Contribution to American Letters has been awarded to Don DeLillo for "a diverse body of work that examines the mores of contemporary modern American culture and brilliantly embeds the rhythms of everyday speech ...
Survey shows that millennials are more irked by spelling errors than older groups
Sep 01 2015: A survey by Dictionary.com appears to show that, while older generations might consider themselves the last bastions of correct spelling and grammar, almost three quarters of 18-34 year olds are irked by grammar and spelling slips on social media - higher than any other...
Neurologist and author Oliver Sacks has died aged 82
Aug 30 2015: British neurologist and author Oliver Sacks has died at the age of 82 in New York.

Dr Sacks earned a medical degree at Queen's College, Oxford University, and later began working as a consulting neurologist for Beth Abraham Hospital, in the Bronx, New York, in 1966....
Support BookBrowse
Become a Member and discover books that entertain, engage & enlighten!
Editor's Choice
Do Not Become Alarmed
by Maile Meloy Full disclosure: I've never had any desire to go on a cruise. I start getting antsy and ...

Priestdaddy
by Patricia Lockwood Patricia Lockwood is a poet and the daughter of Greg Lockwood, a Catholic priest. While Catholic ...

Before We Sleep
by Jeffrey Lent Katey Snow, aged seventeen, leaves home one night. "There was a void within her and one that could ...
Win this book!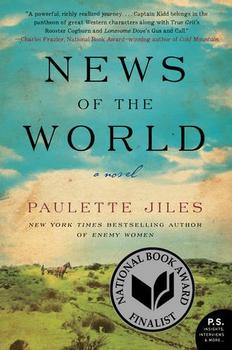 News of the World
A brilliant work of historical fiction that explores the boundaries of family, responsibility, honor, and trust.
First Impressions
The Essex Serpent
by Sarah Perry

Costa Book Award Finalist and the Waterstones (UK) Book of the Year 2016
Reader Reviews
Word Play
Solve this clue:
and be entered to win..
Book Discussion
Books that


entertain,
engage
& enlighten


Visitors can view some of BookBrowse for free. Full access is for members only.