Breaking news on authors, publishers, and book-related topics
BookBrowse Book News
Page 17 of 234
Louise Rennison dies aged 63
Mar 01 2016: Louise Rennison has died aged 63. She was the author of 10 young adult novels featuring Georgia Nicholson and a series of books about Georgia's younger cousin: The Misadventures of Tallulah Casey.

In a statement, HarperCollins said: "Nobody wrote for teenagers like...
SIBA Book Awards now the Pat Conroy Southern Book Prize
Mar 01 2016: The Southern Independent Booksellers Alliance (SIBA) is paying tribute to one of the South's most beloved writers by renaming the SIBA Book Awards. This has been in the works since the news of Conroy's 70th birthday. SIBA Executive Director Wanda Jewell confirmed that ...
Carla D. Hayden nominated as Librarian of Congress
Feb 25 2016: President Obama has nominated as the next Librarian of Congress Carla D. Hayden, who has been CEO of the Enoch Pratt Free Library in Baltimore, Md., since 1993. Before that, Dr. Hayden was deputy commissioner and chief librarian of the Chicago Public Library, assistant ...
Emberto Eco dies at 84
Feb 20 2016: The Italian writer and philosopher Umberto Eco, best known for his novel The Name of the Rose, has died aged 84.
Harper Lee Dies at 89
Feb 19 2016: Harper Lee, whose first novel, "To Kill a Mockingbird," about racial injustice in a small Alabama town, sold more than 10 million copies and became one of the most beloved and most taught works of fiction ever written by an American, died on Friday in Monroeville, Ala.,...
'Harry Potter and the Cursed Child' play will be published as a "special rehearsal edition" book
Feb 10 2016: Harry Potter and the Cursed Child, a play, written by Jack Thorne based on an original story by J.K. Rowling, Thorne, and John Tiffany, catches up with Harry Potter 19 years after the Harry Potter series. Potter is now a husband, father of three, and an overworked ...
Five missing Hong Kong booksellers confirmed as being detained by Chinese government
Feb 09 2016: The five employees of a Hong Kong publishing company who have disappeared over the last few months have been confirmed as being detained by the Chinese government in mainland China. Their abductions were possibly prompted by the upcoming release of Xi Jinping and His ...
Amazon may open about a dozen new stores
Feb 03 2016: An offhand comment yesterday by the CEO of a real estate investment trust that owns and manages 120 shopping malls around the country, threw the book business into a frenzy and caused B&N's share price to drop. In a conference call with investors Sandeep Mathrani, CEO ...
Support BookBrowse
Become a Member and discover books that entertain, engage & enlighten!
Editor's Choice
Do Not Become Alarmed
by Maile Meloy Full disclosure: I've never had any desire to go on a cruise. I start getting antsy and ...

Priestdaddy
by Patricia Lockwood Patricia Lockwood is a poet and the daughter of Greg Lockwood, a Catholic priest. While Catholic ...

Before We Sleep
by Jeffrey Lent Katey Snow, aged seventeen, leaves home one night. "There was a void within her and one that could ...
Win this book!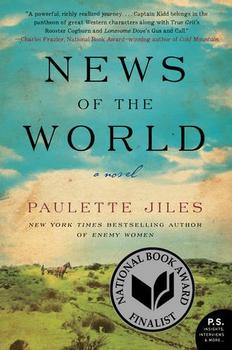 News of the World
A brilliant work of historical fiction that explores the boundaries of family, responsibility, honor, and trust.
First Impressions
The Necklace
by Claire McMillan

For readers of The Nest, the intelligent, intoxicating story of long-simmering family secrets.
Reader Reviews
Word Play
Solve this clue:
and be entered to win..
Book Discussion
Books that


entertain,
engage
& enlighten


Visitors can view some of BookBrowse for free. Full access is for members only.