Breaking news on authors, publishers, and book-related topics
BookBrowse Book News
Page 2 of 233
California bookstore files suit against a state law preventing stores selling autographed books or hosting author events
May 13 2017: Represented by the Pacific Legal Foundation, Book Passage--with stores in Corte Madera, Sausalito and San Francisco, Calif.--and co-owner Bill Petrocelli have filed suit against a state law that, the plaintiffs say, "will make it extremely risky, if not impossible, for ...
Publisher and author organizations join the many others criticizing Amazon's new policy
May 10 2017: Several publishers and authors organizations have officially joined the many book world people criticizing Amazon's new policy allowing third-party booksellers to "bid" for the primary spot in buy buttons.

A statement from the Authors Guild called the move "deeply ...
Amazon allows third-party book re-sellers to "win" buy buttons on book pages
May 09 2017: A new program from Amazon is drawing a range of reactions from those across the publishing industry, from fear to downright anger. The e-tailer has started allowing third-party book re-sellers to "win" buy buttons on book pages. The program, publishers, agents, and ...
Granta announces its once in a decade Best Young American Novelists list
Apr 29 2017: Once every 10 years Granta issues a special issue focused on new American fiction, "showcasing the young novelists deemed to be the best of their generation--writers of remarkable achievement and promise, still in their twenties and thirties."

It's Best of Young ...
Robert Pirsig, author of Zen and the Art of Motorcycle Maintenance, dies aged 88
Apr 25 2017: Robert M. Pirsig, author of Zen and the Art of Motorcycle Maintenance: An Inquiry into Values, died yesterday at age 88.

First published in 1974 by William Morrow, the book was a spectacularly popular philosophy book that was loosely autobiographical, tracing a ...
First John Grisham bookstore tour for 25 years
Apr 19 2017: Bestselling author John Grisham will celebrate the publication of his 30th novel, Camino Island ( June 6), with his first bookstore tour in 25 years. On his website, Grisham shares the schedule and event guidelines for the tour, which will feature a book signing and ...
Mark your calendars for Independent Bookstore Day!
Apr 18 2017: Independent Bookstore Day is a one-day national party that takes place at indie bookstores across the USA on the last Saturday in April. Every store is unique and independent, and every party is different. But in addition to authors, live music, cupcakes, scavenger ...
US bookstore sales down 3% year on year in February
Apr 18 2017: February bookstore sales fell 3%, to $744 million, compared to February 2016, according to preliminary estimates from the Census Bureau. This is the third monthly drop in a row. For the first two months of the year, bookstore sales have fallen 3.6%, to $2.3 billion, ...
Support BookBrowse
Become a Member and discover books that entertain, engage & enlighten!
Editor's Choice
Before We Sleep
by Jeffrey Lent Katey Snow, aged seventeen, leaves home one night. "There was a void within her and one that could ...

The Hermit
by Thomas Rydahl If you can be comfortable with Scandinavian noir played out against the sun-drenched backdrop of ...

The Radium Girls
by Kate Moore In 1915, Austrian-born Sabin von Sochocky developed a luminescent paint that used radium to create a...
Win this book!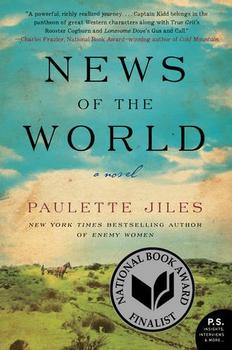 News of the World
A brilliant work of historical fiction that explores the boundaries of family, responsibility, honor, and trust.
First Impressions
The Essex Serpent
by Sarah Perry

Costa Book Award Finalist and the Waterstones (UK) Book of the Year 2016
Reader Reviews
Word Play
Solve this clue:
and be entered to win..
Book Discussion
Books that


entertain,
engage
& enlighten


Visitors can view some of BookBrowse for free. Full access is for members only.